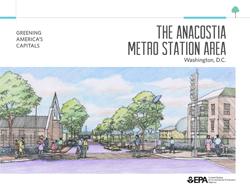 Each weekday, about 12,000 passengers board Metrobuses and 7,700 get on Metrorail at the Anacostia Metro station in Washington, D.C. The station is surrounded by four major roads: Suitland Parkway, Martin Luther King, Jr. Avenue, Firth Sterling Avenue, and Howard Road. Bus, car, bicycle, and pedestrian traffic on these roads converge at the station area. Several large development projects are planned or underway nearby and are anticipated to increase station use, including development at the St. Elizabeth's West Campus (future home of the Department of Homeland Security), two mixed-income developments, and a proposed riverfront development at Poplar Point.
The District of Columbia recognized the need to improve pedestrian access and safety at the Metro station and applied for assistance from EPA's Greening America's Capitals Program. EPA convened a team of design experts to help the city develop design concepts for the station area.
The city's goals for this assistance included:
Plan for improvements on the roads and intersections surrounding the station to improve pedestrian and bicycle safety and access.
Incorporate green infrastructure for stormwater management, using vegetation and soil to manage rainwater where it falls.
Make the area more environmentally sustainable and attractive for residents and better connect the neighborhood to the Anacostia River.
The design concepts developed through working with local stakeholders can help the community envision a public realm that is both safer and more environmentally responsible. The District could choose to incorporate some of these ideas into future plans for improvements.
You may need a PDF reader to view some of the files on this page. See EPA's About PDF page to learn more.