Greening Capitol Way, Olympia, Washington
The city of Olympia, Washington, wants to create a cohesive vision for Capitol Way, the main street in the downtown. The city wishes to make the street more accommodating for pedestrians and bicyclists, add street trees to make the street more attractive and safer, and manage stormwater runoff to improve water quality and minimize localized flooding. The city hopes that improving the street will spur increased private investment and vitality in the downtown.
The city requested technical assistance from EPA's Greening America's Capitals Program. EPA funded a design team to assess the corridor and collaborate with city staff, local business owners, residents, and other stakeholders to develop and identify design options to revitalize and green Capitol Way.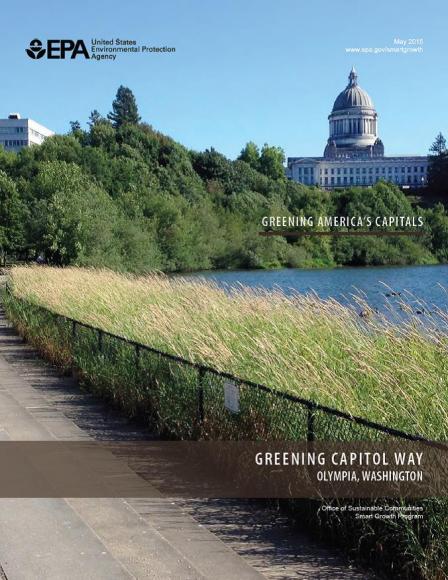 The team developed design options for individual sites that respond to site conditions and community input, including:
Potential new street configurations, such as curbless "shared streets" near the farmers market, that allow flexible use of the streets to serve all users while also increasing the amount of open space in the right-of-way for seating and public events.
A road diet in the main shopping area downtown that could reduce vehicle travel lanes to create more space to widen sidewalks and add landscaping to improve aesthetics and absorb stormwater runoff.
Safely accommodating pedestrians and bicyclists and adding landscaping by narrowing travel lanes in places where traffic volume warrants four lanes.
Regardless of configuration, all the design options make pedestrians, bicyclists, and transit riders safer and more comfortable while accommodating desired traffic capacity and maintaining parking; increase the amount of public gathering space; and provide more landscaped areas to increase shade, absorb stormwater runoff, and reduce localized flooding.
The report includes near- and mid-term steps the city could take if it chooses to implement any of the design options, as well as potential funding sources for design implementation. These actions could catalyze improvements not just on Capitol Way, but also in all of the downtown.
You may need a PDF reader to view some of the files on this page. See EPA's About PDF page to learn more.