The city of Montpelier, Vermont, requested assistance from EPA's Greening America's Capitals Program to create a vision for how bicycle and pedestrian connections in its historic downtown could be strengthened. The city also requested assistance in exploring how green infrastructure could be incorporated into its streets and parking lots to manage and treat stormwater runoff to reduce flooding, improve the water quality of the Winooski River, and create more attractive public gathering spaces.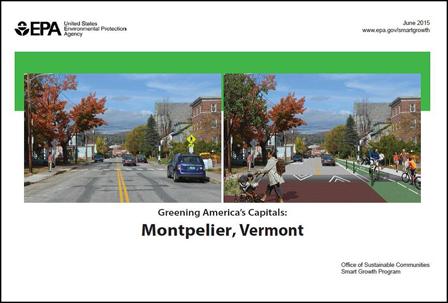 The city of Montpelier identified five sites on which to explore design concepts that show how the city might achieve its goals of a more pedestrian and bicycle-friendly downtown that is also less likely to flood:
Barre Street from the recreation center to Main Street: Provide the missing downtown segment to the Montpelier shared-use path that runs along the Winooski River.
Main Street and Barre Street intersection: Clarify routes for pedestrians, bicyclists, and drivers, and connect the Montpelier shared-use path through the intersection.
Heney and Jacobs parking lots: Use green infrastructure to reduce runoff into the Winooski River, a strategy that could be a model for other parking lots. Explore options for public access to the river.
Taylor Street from the Winooski River to State Street: Improve pedestrian connections between State Street and the transit center and shared-use path.
State Street and Main Street intersection: Improve the intersection for pedestrians, and incorporate green infrastructure into the streetscape.
EPA's design team worked with city and state staff, community members, downtown businesses, and other stakeholders to develop design options for these sites that responded to concerns about and desires for each site. The team also identified potential next steps the city could consider for implementing the options, as well as funding sources that might help pay for improvements.
You may need a PDF reader to view some of the files on this page. See EPA's About PDF page to learn more.