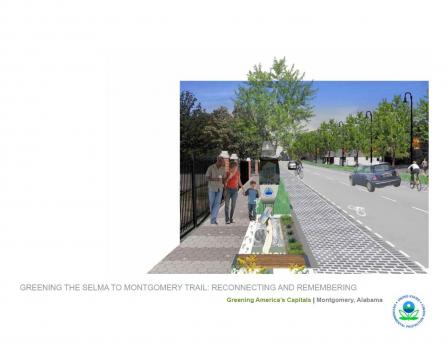 Greening the Selma to Montgomery Trail: Reconnecting and Remembering
The Selma to Montgomery Civil Rights Trail traverses a historically significant African-American neighborhood in Montgomery, Alabama. City staff requested help from EPA's Greening America's Capitals Program to develop a vision for a more attractive and sustainable neighborhood along this segment of the trail that could improve the experience for residents and visitors alike.
This project fits into a larger, multi-agency effort that includes a collaboration between EPA and the National Park Service to develop the entire trail from Selma to Montgomery to reflect the importance of its history, be a destination for tourists and visitors who come to honor the American civil rights movement, and showcase best practices in environmental protection to other communities throughout the city and state.
The EPA-funded design team led a three-day workshop engaging stakeholders on historic preservation, economic revitalization, and green infrastructure. The design options developed through this workshop could improve the walking and biking experience along the streets, particularly beneath the freeway overpasses, while also improving the appearance of the neighborhood.
Elements of the design options include redesigning the road to accommodate bicyclists in the same lane as vehicle traffic, increased lighting (particularly beneath the overpasses), more visible crosswalks, and new street trees to add much-needed shade.
Historic interpretive signs and public art would be added along the sidewalks to make the walking experience more interesting and to educate people about the community's history and culture.
Green infrastructure elements, like rain gardens planted with native plants and permeable paving in the parking lane, would help capture stormwater runoff and allow it to naturally soak into the ground, reducing flow into storm sewers.
The design options include ideas for the design of new residential and commercial development that could be built on the many vacant lots in the neighborhood.
Combined, these elements improve the neighborhood for residents while also capturing the story of the civil rights struggle and the trail's impact at a watershed moment in American history.
You may need a PDF reader to view some of the files on this page. See EPA's About PDF page to learn more.