Brittingham-Triangle Green Project
The city of Madison, Wisconsin, asked for help through EPA's Greening America's Capitals Program to explore design options that would make it easier for people of all abilities who live and work in the Triangle neighborhood, a diverse, low-income neighborhood southwest of the downtown, to get around within the neighborhood as well as reach other parts of the city.
The area faces several challenges, including busy roadways, wide and unsafe pedestrian crossings, lack of visual connection to the surrounding neighborhood and downtown, and environmental and water quality issues of Monona Bay.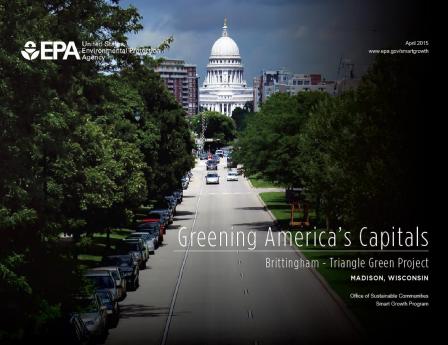 The design options developed through the project meet the community's goals of making it easier for people of all abilities to get around. They can also help improve water quality in Monona Bay by capturing and cleansing stormwater while creating a distinctive and memorable entry to the neighborhood.
Design options were developed for five focus areas:
East Campus Mall Extension: The team's design reconfigured a parking lot and green space to create a defined, central open space along with a wide pedestrian way connecting the existing campus mall to the north with Brittingham Park to the south.
West Washington Avenue: The team's design used bump-outs and midblock crossings to create safe pedestrian crossings and pedestrian and bicycle paths to enhance the multimodal aspect of West Washington.
Intersection of West Washington and South Park Street: The team's design modified the intersection to safely combine pedestrian, bicycle, and vehicular traffic while providing space for green infrastructure and public art.
Intersection of West Washington and Regent Street: The team's design created a defined gateway into the capitol district using a roundabout that calms traffic and lessens the distance pedestrians must to travel to cross the road.
Brittingham Bath House / Beach Area: The team's design would rebuild the bath house to include environmentally sustainable features, along with elements such as heated outdoor spaces and concessions that could extend the public use of this facility into the winter.
The report concludes with near-, mid-, and long-term actions that could catalyze improvements, as well as potential funding sources for implementation.
You may need a PDF reader to view some of the files on this page. See EPA's About PDF page to learn more.