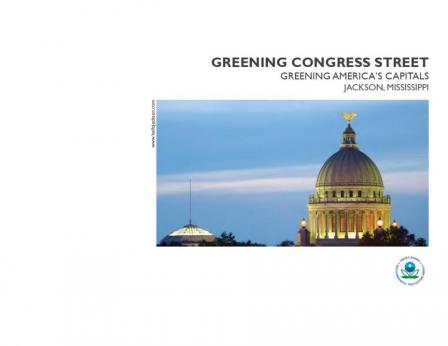 Congress Street, in downtown Jackson, Mississippi, is bisected by the state capitol building and grounds. Many other civic and government buildings line the street, including Jackson City Hall, Hinds County Courthouse, the Governor's Mansion, and the State Supreme Court. The city of Jackson asked EPA's Greening America's Capitals Program to help make Congress Street more walkable, more attractive, and a model for sustainable design elsewhere in the city.
EPA's design team studied the existing conditions along Congress Street and held a three-day workshop with federal, state, county, and city staff, as well as property owners, residents, neighborhood groups, local developers, and design professionals. Participants discussed several design options to make Congress Street more walkable and attractive. Those discussions and meetings helped the design team develop and refine design options, presented in this report, Greening America's Capitals - Jackson, Mississippi (2011).
You may need a PDF reader to view some of the files on this page. See EPA's About PDF page to learn more.