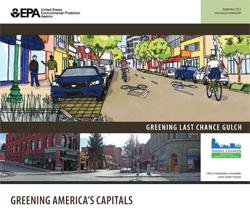 The city of Helena, Montana, requested assistance from EPA's Greening America's Capitals Program to create a common vision for its historic downtown main street, Last Chance Gulch. EPA funded a team of designers that worked with city staff, local business owners, residents, and other stakeholders to develop design options to revitalize the street and downtown Helena.
The city and stakeholders identified a set of intersections that should be prioritized for redesign, and the design team developed concepts that could meet community goals for these sites. The design options include a street redesign that supports all transportation modes, better uses existing parking, and adds green infrastructure features for environmental benefits and a more pleasant walking environment on downtown streets.
You may need a PDF reader to view some of the files on this page. See EPA's About PDF page to learn more.