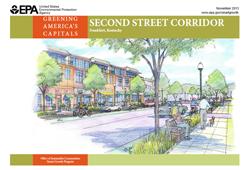 In 2012, the city of Frankfort, Kentucky, applied to EPA's Greening America's Capitals Program for help creating a plan for the Second Street corridor. The city's goals were to:
Improve pedestrian and bicycle safety in the Second Street corridor, especially near the Second Street Elementary School, to encourage walking and biking and reduce greenhouse gas emissions.
Reduce the quantity of stormwater runoff entering the drainage system to reduce combined sewer system overflows into the Kentucky River and improve water quality.
Improve connections to the Kentucky River along a proposed Riverwalk trail.
Enhance the visual appeal of the Second Street corridor to attract more foot traffic to local businesses, catalyze the redevelopment of vacant lots and storefronts, and support a mixed-use, walkable neighborhood.
Improve connections between the state capitol building and downtown to attract tourists and visitors to the commercial corridor on Second Street.
The EPA team developed design options illustrating several potential remedies, including reducing turning radii, eliminating underused travel lanes, and widening sidewalks to make it easier and safer for pedestrians and bicyclists to get around. The design concepts include green infrastructure techniques such as street trees, rain gardens, and porous paving that capture rain where it falls, reducing runoff volume and filtering out pollutants as the water percolates into the ground.
You may need a PDF reader to view some of the files on this page. See EPA's About PDF page to learn more.