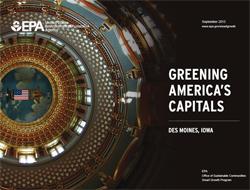 Des Moines selected 6th Avenue to receive streetscape improvements that add green infrastructure for a range of community, economic, and environmental benefits. The city wants to create a new model for infrastructure upgrades and investment in an area that has suffered the effects of decades of disinvestment.
The city asked EPA's Greening America's Capitals Program for help incorporating green infrastructure elements into 6th Avenue. EPA's project team held a three-day workshop in the project area with local officials, residents, business owners, and other stakeholders to outline goals for the project and develop design options to achieve those goals.
The team developed design concepts for several key locations that the city and the 6th Avenue Corridor nonprofit chose based on their potential to help area businesses and residents and their capacity to illustrate the transformative potential of green and complete streets. The design concepts illustrate improved pedestrian amenities and safety features for pedestrians and bicyclists, as well as integrated green infrastructure components such as rain gardens, bioswales, and large street trees.
The report also provides examples from other communities that have accomplished similar projects, as well as potential next steps that the city and its partners could follow if they choose to implement the priority projects discussed in the workshop.
You may need a PDF reader to view some of the files on this page. See EPA's About PDF page to learn more.