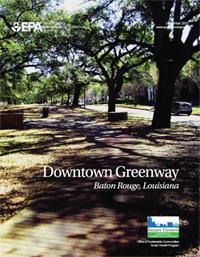 The city of Baton Rouge applied for and received assistance from EPA's Greening America's Capitals Program to help the city envision a new Downtown Greenway. The city would like the greenway to accommodate bicyclists in existing streets and open spaces and create attractive streets and public spaces that reflect Baton Rouge's sense of place.
The project built off of planning work the city had already done and developed design options for five sites, selected by city staff, along the greenway's route through downtown. This project is part of the city's larger strategy for greening downtown Baton Rouge as described by Plan Baton Rouge.
The design options include:
Increasing tree canopy to shade and cool streets and adjacent properties, intercept rainfall and reduce stormwater runoff, and improve air quality.
Adding planted swales and rain gardens to capture and hold stormwater runoff from streets, reducing its impact on the drainage system.
Planting trees and shrubs to increase habitat for birds and insects.
You may need a PDF reader to view some of the files on this page. See EPA's About PDF page to learn more.