Village Green Project
Pollution-sensing benches measure air quality
Published in October 2015
EPA is putting science into the hands of the public with the installation of Village Green air monitoring benches in cities across the country. The public can view the data collected by instruments in the benches from on-site displays and a mobile-friendly website.
"Our goal is to evaluate next generation air monitoring capabilities like those associated with the benches and share that knowledge with others," says Ron Williams, an EPA co-developer of the Village Green concept.
EPA is collaborating with state and local partners to further test the air monitoring system, fitted into a park bench, and provide educational outreach on local air quality. The benches offer new capabilities for communities to monitor air quality in areas where pollution may be a concern or for educational purposes.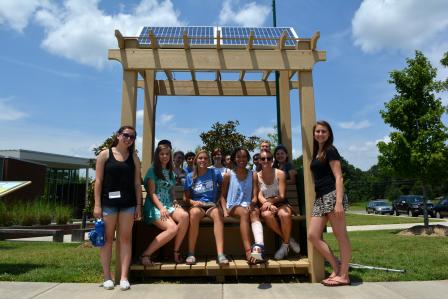 Students visiting the Village Green bench in Durham, North Carolina.
The prototype bench in Durham, N.C., has been operating since June 2013 at a public library, providing a steady stream of data to a website for use by teachers, students and citizens to learn about local air quality and its effects.
"The data could be used by teachers for real-world learning in the classroom and residents are given the opportunity to closely engage with air quality measurements in their neighborhoods," says Gayle Hagler, an engineer and co-developer of the Village Green bench. "Others can use the data as well to learn more about local air quality," she adds.
The air monitoring bench, developed by EPA researchers, operates on solar and wind power and provides minute-to-minute data on two common air pollutants – ozone and particulate pollution (PM) --and weather conditions. Hidden inside the bench are air quality and weather instruments, a miniature computer processor, and wireless communications equipment. 
To expand the project to more communities, EPA sought state and local partners through a competitive process to host a bench. In the summer of 2015, three benches were installed at the National Zoo in Washington, D.C.; a public library in Kansas City, Kan. and the Independence National Historical Park near the National Constitution Center in Philadelphia, Pa. An additional three benches are expected to be installed by 2015 at Hartford, Conn., Oklahoma City, Okla. and Chicago, Ill.   
Interest has been high. Communities have held ribbon-cutting events and educational activities on air quality. Researchers have also received some international interest in the Village Green station design.
The Village Green benches are not commercially available as a pre-assembled system. However, materials and parts can be obtained in the marketplace and researchers recently published a journal article that provides the technical specifications for the original prototype design. The article is available on EPA's Village Green Web page.