Private, Government Collaboration Advances Air Sensor Technology
Published July 30, 2015
EPA and Aclima Inc., a San Francisco-based technology company, are jointly developing new kinds of small, low-cost air pollution sensors that will provide real-time air quality information to the public and push the envelope of exciting new technologies.  The cooperative research and development agreement (CRADA) represents a collaboration between the federal government, private sector, and academia through Aclima.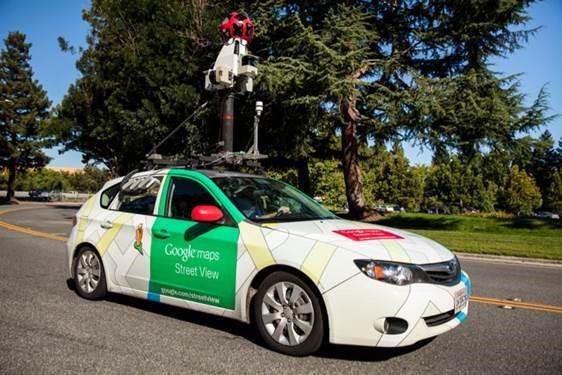 Google car equipped with Aclima sensors. Photo courtesy of Aclima.
"Our goal is to deploy large networks of sensors and give citizens access to hyper-local data to empower them to make decisions about their health and exposure every day," says Aclima chief executive officer Davida Herzl. "For us, it's about ensuring that citizens are receiving reliable data. That's where the EPA's expertise has been very valuable."
Several research projects are under way.  Researchers from EPA and Aclima worked together on a pilot project in Denver, Colo. in 2014 to assemble a real-time view of pollutant levels and meteorological conditions at the street level. The project involved mapping pollutants measured by three Google Street View cars outfitted with Aclima's mobile platform of air pollution sensors. The cars collected 150 million data points while driving a designated route in the summer 2014. The air sensor data was compared to measurements from standard EPA monitors at stationary sites nearby.
"Our research partnership with Aclima is helping us understand air pollutants at the local and community level and how they move in an urban area at the ground level," said Dan Costa, Sc.D., National Program Director, EPA's Office of Research and Development. "New mobile air measurements can complement existing stationary measurements for a more detailed picture of personal and community air quality."
EPA also is working with Aclima to develop a new particulate matter (PM) sensor. EPA senior research scientist Paul A. Solomon says the new PM sensor package – which is still in development – is smaller than existing large monitoring instruments and provides a direct measurement of PM.
"The PM sensor itself is the size of a small USB drive and can provide real-time data via wireless networks. The whole device with a battery and electronics is half the size of a deck of cards," Solomon says.
EPA will publish results of research conducted with Aclima in the scientific literature. The research is one of many next generation air measurement projects by EPA to bring new ways for states, communities and citizens to learn about air quality.