EPA Science Matters Newsletter: Healthier Nail Salons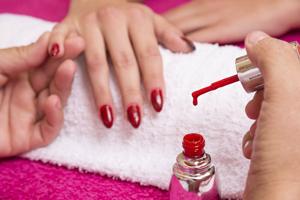 Published October 2014
EPA research supports initiative to promote healthier indoor environments for nail salon workers and customers.
A professional manicure and fresh coat of nail polish can be a perfect indulgence. But for the more than 375,000 often low-paid nail salon workers across the United States, using nail polishes and similar products for long hours in inadequately ventilated spaces is suspected to be a health risk.
Nail polishes and lacquers often contain the chemicals toluene, formaldehyde, or dibutyl phthalate, which, at high exposures, have been associated with respiratory problems, reproductive effects, and even cancer.
EPA scientists are conducting studies to help lower chemical exposures associated with health risks for nail salon workers. Through the Agency's Regional Applied Research Effort—a partnership program that unites Agency scientists with local colleagues and groups to target high-priority science needs—they have teamed up with officials and health specialists to support San Francisco's Healthy Nail Salon Recognition Program.
EPA scientists Dr. Kim Hoang and Sania Tong-Argao, working with partners from the Cancer Prevention Institute of California and the California Healthy Nail Collaborative, conducted a pilot study to test the efficacy of steps outlined in the program.  
The researchers compared exposure levels in two different sets of salons. In one, no changes were made. In the others, the salons implemented recommendations that included using safer products (without toluene, dibutyl phthalate, or formaldehyde), improving chemical storage practices, having workers use protective gloves and masks, and improving indoor ventilation.
Results, presented at the International Society of Environmental Epidemiology, showed that workers in the salons that had implemented steps outlined in the program were exposed to lower levels of toluene and volatile organic compounds.
EPA's Sharon Lin, who serves as the regional coordinator for the White House Asian American Pacific Islander Initiative, explains that the scientists are now working with White House officials across several departments as part of President Obama's commitment to improve the quality of life and opportunities for Asian Americans and Pacific Islanders.
The San Francisco Department of the Environment runs the Healthy Nail Salon Program and recognizes participants through an interactive website that guides potential clients looking for salons "implementing safer practices and products to protect the health of salon staff, the health of customers and the environment."
Potential participants are invited to attend free workshops to learn how to make their salons safer for their staff and customers, and how to reduce indoor odors. "The smell you smell in nail salons can be overwhelming," says Lin.
Similar projects are underway in other counties in California and Washington State, and the Office of the Surgeon General is moving forward with grants to municipalities in the Boston area to support ventilation improvements at area nail salons.
EPA research helped confirm steps that nail salons and their workers can take to lower exposures and better protect human health. The impact is expected to help the small businesses that are the vast majority of nail salons continue to provide a welcome service, but in a safer, healthier way.