DISCOVER-AQ
Tracking Pollution from the Skies (and Space!)
Published October 2015
After four years and lots of air quality measurements in four parts of the United States, EPA and partners are poring over the data to improve the use of satellites to measure air pollution near the ground. 
The work is all part of the DISCOVER-AQ study to enhance understanding of air pollution problems, from the ground to space, and to provide improved data to decision makers and communities to better protect public health.
The DISCOVER-AQ study by EPA, NASA and others, was conducted in Denver in 2014, Houston and California's San Joaquin Valley in 2013, and the Baltimore-Washington, D.C. area in 2011.
Currently, EPA monitors common air pollutants such as ozone and particulate matter or PM using ground-based systems strategically located across the U.S. to measure air quality in metropolitan and regional areas. Researchers want to tap satellite capabilities to look at pollution trends across wide swaths of the country, but there are challenges to using space-based instruments.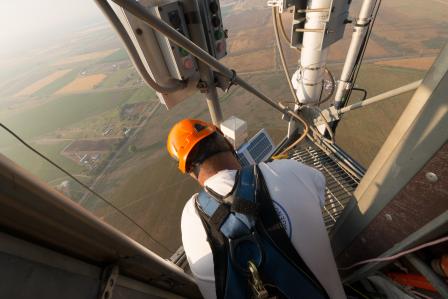 EPA researcher Russell Long works on the air monitors high above Denver.
Satellites have difficulty distinguishing between pollution high in the atmosphere and pollution near the surface where people live. Studies like DISCOVER-AQ, coupled with air quality modeling using the data, aim to improve the ability of satellites to measure air pollutants at various heights.
"The advantage of using satellites is you can cover a wider area," says Russell Long, an EPA project scientist.  "But right now, it's hard for satellites to determine what air pollutants are close to the ground."
Satellites could be an important tool for monitoring air quality given the large gaps in ground-based pollution monitors across the country and around the world. Improved satellite measurements and models will lead to better air quality forecasts and more accurate assessments of pollution sources and fluctuations.
As part of DISCOVER-AQ, EPA is also working with schools, academic institutions, and other community members to develop a robust citizen science component using low-cost sensor technologies for pollution monitoring. In Denver, EPA researchers worked with community members to collect air pollution measurements using low-cost sensors and partnered with the Denver Museum of Nature and Science to share DISCOVER-AQ with the general public.
View the following video to learn more.
_______________________________________________________
Reaching for gold with a small sensor
EPA scientists used the opportunity during the DISCOVER-AQ study to test various types of low-cost and portable ground-based sensor technologies to determine which ones work the best for measuring air pollutants.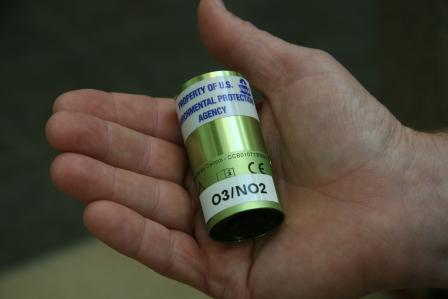 An air sensor that can fit in the palm of your hand.
"Our goal was to evaluate the sensors to see how well they perform," Long says. "By including more sensors, it increases our understanding of how they perform in normal monitoring applications and how they compare to the gold standard for measuring air quality of reference instrumentation."
Reference instruments have undergone rigorous evaluation and testing to ensure they produce reliable air quality data. They are used in a network of stationary monitoring stations located across the U.S. for implementing the Clean Air Act.
Preliminary findings show that some of the smaller and lower-cost sensors performed well and might be comparable to larger and more expensive reference instruments, although further study is needed.
"In the future and after additional study, air quality managers may be able to rely on this rapidly advancing technology to obtain air quality data from areas without a network monitoring station nearby," says Dan Costa, Director of EPA's Air, Climate, and Energy Research Program. "These sensors are opening new opportunities for air measurement capabilities for communities and citizens to use as well to understand local air quality," he adds.