Air Sensors and Wildfires
New sensors rise skyward to check wildfire smoke
Published October 2015
Scientists are launching tethered balloons called aerostats with innovative, lightweight air sensors they have developed to learn more about pollutants emitted from wildfires.  Wildfires may be increasing in size and frequency because of climate change. To help protect the health of those who may live or work near these fires, EPA is using its expertise in air quality measurement to study wildfire emissions. The research is part of a larger project to look at the health effects and emissions of wildfire smoke.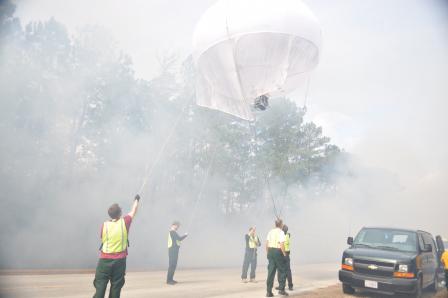 Aerostat with air sensors in North Carolina.Rather than placing larger monitors at the perimeter and ground level of a wildfire, sensor-equipped balloons can be sent into the rising smoke plume to measure pollutants.  The data that is collected can be used in dispersion models to measure atmospheric impacts and potential population exposure.
The sensor package is shoebox-sized and replaces a much larger pollutant sensor package used in the past to check emissions from the surface oil burns from the Deepwater Horizon spill in 2011 and from simulated military waste burn pits.  EPA researchers have adapted modern sensor technology to make the system lighter and easier to deploy. 
"We have reduced the size and weight considerably. The original package weighed almost 50 pounds.  The new package with the shoebox-sized sensor system weighs eight pounds," says Brian Gullett, senior research scientist at EPA.
Gullett explains that the new sensors will help modelers to make better predictions of pollutant transport and exposure risk. That's because the data collected from the sensors will help people know not only the type of pollutant, but also its density within the column of smoke and how much pollutant is produced. With this information, combined with standard dispersion models, scientists can figure out how the pollutant may react in the atmosphere, affecting air quality, and whether there is an environmental or exposure risk.
Researchers have conducted studies using airborne sensors to understand pollutants at military waste burn pits and prescribed forest burns. The studies have been published in the journal Environmental Science & Technology.