News Releases from
Region 07
St. Louis Metropolitan Sewer District Invited by EPA to Apply for $43-Million Water Infrastructure Finance and Innovation Act Loan
2017 loans will help improve water quality for 20 million Americans by accelerating investment in our nation's water infrastructure
Environmental News

(Lenexa, Kan., July 19, 2017) - The U.S. Environmental Protection Agency (EPA) is inviting the Metropolitan St. Louis Sewer District (MSD) to apply for a $43-million Water Infrastructure Finance and Innovation Act (WIFIA) loan to help finance improvements to the region's wastewater system.
After a robust, statutorily-required review process, MSD was selected as one of 12 projects nationwide from a group of 43 prospective borrowers, representing large and small communities, who submitted letters of interest to EPA in response to the 2017 WIFIA Notice of Funding Availability (NOFA).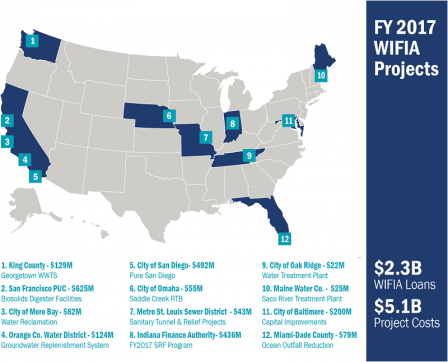 In fiscal year 2017, the WIFIA program received $25 million, including an additional $8 million in the Consolidated Appropriations Act of 2017 which was signed into law by President Donald Trump on May 5, 2017. This year's projects will also leverage more than a billion dollars in private capital and other funding sources, including EPA's State Revolving Fund (SRF) loans, to help finance a total of $5.1 billion in water infrastructure investments. The selected projects demonstrate the broad range of project types that the WIFIA program can finance, including wastewater, drinking water, stormwater, and water recycling projects.
"Rebuilding America's infrastructure is a critical pillar of the president's agenda," said EPA Administrator Scott Pruitt. "These large-scale projects will improve water quality for 20 million Americans, especially those communities that need it the most, such as rural and urban communities."
"I applaud the EPA's support of the Deer Creek Sanitary Tunnel and Sanitary Relief project," said U.S. Rep. Ann Wagner (MO-2). "This project will ensure that Missourians continue to have safe access to our most precious resource, while upgrading our sanitary systems to meet the highest standards."
MSD Executive Director and CEO Brian Hoelscher said, "We appreciate this opportunity to apply for low-cost financing through the WIFIA Program as we continue to build MSD Project Clear, our $4.7 billion, 23-year program to alleviate sewer overflows and basement backups in St. Louis City and St. Louis County.  This low-cost WIFIA loan is very much in line with our long-term strategy of developing financing options that lessen the steepness of customer rate increases as we make necessary improvements to our wastewater system.  We very much look forward to the next steps in the application process."
MSD's letter of interest outlined plans to construct a pump station at the downstream end of a sanitary sewage storage tunnel; replace approximately 15,900 feet of sanitary sewer; and slipline 1,700 feet of sanitary sewer and appurtenances to address both combined and sanitary sewer overflows. These projects would provide storage for excessive inflow and infiltration during wet weather events; provide dewatering from a major storage facility that will regulate sanitary flow into the River Des Peres foul water system; and allow for the removal of 24 constructed sanitary sewer overflow outfalls into the Deer Creek channel. These improvements would alleviate surcharging and basement backups, help to meet impending Total Maximum Daily Load (TMDL) requirements, and improve water quality in Deer Creek.
The Water Infrastructure Finance and Innovation Act established by Congress in 2014 requires EPA to follow a selection framework that includes an assessment of letters of interest by performing an eligibility screening, a preliminary creditworthiness assessment, and an evaluation of the selection criteria. The WIFIA program selection criteria and respective weights are available in the WIFIA Handbook [https://wcms.epa.gov/sites/production/files/2017-07/documents/program_handbook_7-18-17_final.pdf] (Appendix C, Page 53).
Established by the Water Infrastructure Finance and Innovation Act of 2014, the WIFIA program is a new federal loan and guarantee program at EPA that aims to accelerate investment in our nation's water infrastructure by providing long-term, low-cost supplemental credit assistance for regionally and nationally significant projects. The WIFIA program's funding in President Trump's FY18 budget is $20 million, an amount that should fund approximately $1 billion in loans. For more information about the WIFIA program, visit: www.epa.gov/wifia.
# # #
Learn more about EPA's WIFIA program
WIFIA project fact sheets
Learn more about EPA Region 7
View all Region 7 news releases