News Releases from
Headquarters
Hunt Valley, Md. Company EA Engineering Wins Prestigious EPA Administrator's Small Business Award
Company management accept award at ceremony held in Washington on Thursday
WASHINGTON -- The Environmental Protection Agency on Thursday awarded Hunt Valley, Maryland small business, EA Engineering, Science & Technology, Inc. the Administrator's Award for Outstanding Accomplishments by a Small Business Contractor. The award was presented by EPA Administrator Scott Pruitt at the 27th Annual EPA Small Business Awards held at EPA headquarters in Washington, D.C., on Thursday.

EA Engineering has served as an EPA contractor specializing in environmental investigation and remediation of potentially contaminated sites across America. The specific work the company was evaluated for included technical work to support all areas of the Superfund Remedial Program.  EA Engineering has been evaluated by EPA for over 10 consecutive years for their work on this important program and received overall scores of excellent for all evaluation periods.

"Winning this award is just fantastic. It validates the effort we put in to delivering quality for the people of this nation and the EPA," said EA Engineering President and CEO, Ian MacFarlane, about receiving this award. "It's not a myth that small businesses drive a lot of the economy, particularly local economies," Mr. MacFarlane concluded. EA Engineering's headquarters office located just north of Baltimore City in Hunt Valley, Md., employs 180 people.

"What's wonderful about small business owners is their dedication to their employees and to making a difference in their communities," said Administrator Pruitt during the awards ceremony. "I appreciate Ian MacFarlane and EA Engineering's leadership and commitment to working with EPA in a collaborative way each and every day."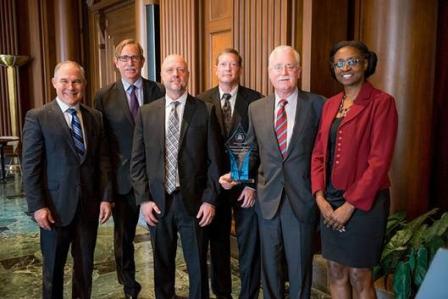 Photo: EPA Administrator Scott Pruitt presents the Administrator's Award for Outstanding Accomplishments by a Small Business Contractor to Hunt Valley, Md. based small business, EA Engineering President and CEO, Ian MacFarlane and his management team at EPA headquarters in Washington, D.C., on Thursday, May 4, 2017.

Download Video – EA Engineering, CEO Ian MacFarlane and EPA Admin. Pruitt: https://www.hightail.com/download/dDZHb3BObTg5NVV3anNUQw

MP3 Audio – EA Engineering CEO Ian MacFarlane:
Download transcript
(182 bytes)
Transcript: Winning this award is just fantastic. I mean, it validates the effort we put into delivering quality for the people of this nation, and the EPA, and we can wish for nothing else.
R075