News Releases from
Region 07
EPA Settlement with Owner of Fertilizer Plant in Culbertson, Neb., to Resolve Risk Management Program Issues
Environmental News
FOR IMMEDIATE RELEASE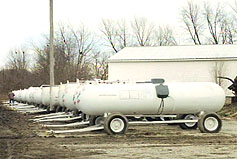 Anhydrous ammonia tanks(Lenexa, Kan., June 24, 2016) - The owner of an agricultural fertilizer plant in southwest Nebraska has agreed to comply with federal Risk Management Program (RMP) requirements as part of a settlement with the U.S. Environmental Protection Agency (EPA) related to its storage and use of large quantities of anhydrous ammonia.
Under a consent agreement and final order filed June 20, 2016, by EPA Region 7 in Lenexa, Kan., Kugler Oil Company, of McCook, Neb., will also pay a $101,808 civil penalty to the United States to settle alleged violations of RMP regulations at its Culbertson Dealer Fertilizer and Retail Plant, at 71748 Rail Road Avenue, in Culbertson, Neb.
As part of a previous administrative order for compliance on consent, filed June 1, 2016, Kugler Oil Company must provide documentation to EPA by January 31, 2017, showing that it has completed the actions necessary to bring the Culbertson facility into compliance with RMP regulations.
An EPA inspection of the Culbertson facility in August 2014 found it had more than 10,000 pounds of anhydrous ammonia in process, and therefore was subject to specific Risk Management Program regulations that apply to companies that use or store large quantities of the fertilizer chemical. At the time of the inspection, the Culbertson Dealer Fertilizer and Retail Plant was using or storing approximately 620,000 pounds of anhydrous ammonia but did not have the proper Risk Management Program in place.
As a result of EPA's enforcement action, Kugler Oil Company must now develop and implement a risk management program for the facility that includes a management system, a hazard assessment, a prevention program, and an emergency response program.
Risk management programs and plans are crucial public safety requirements for businesses that use or store quantities of hazardous or potentially hazardous chemicals above certain threshold levels. Compliance with RMP regulations prevents accidents from occurring, and allows communities and their emergency responders to more safely respond to chemical releases and accidents that do occur.
Anhydrous ammonia is a colorless liquid when stored under pressure, but becomes a gas when released into the air. Accidental releases of anhydrous ammonia can be potentially serious, even deadly. Such releases can cause fire or explosion, and human exposure to anhydrous ammonia can cause serious health problems, including irritation and damage to the eyes, skin, respiratory system, gastrointestinal tract, and in severe cases, death.
# # #
Learn more about the Clean Air Act's Risk Management Plan Rule
Learn more about EPA Region 7
View all Region 7 news releases
Connect with EPA Region 7 on Facebook: www.facebook.com/eparegion7
Follow us on Twitter: @EPARegion7