News Releases from
Region 02
EPA Selects Central and Western New York Communities to Receive $1 Million in Brownfield Grants to Revitalize Blighted Properties and Promote Economic Redevelopment
(New York, N.Y.) The City of Rochester, Onondaga County, Herkimer County, and the City of Cortland are among 144 communities selected for Brownfields Environmetal Assessment, Revolving Loan Fund, and Cleanup grants. The five grants totaling $1 million will provide the communities with funding to assess, clean up, and redevelop underutilized properties while protecting public health and the environment. A total of $54.3 million will be provided to Brownfields sites nationwide.

"EPA's Brownfields Program expands the ability of communities to recycle vacant and abandoned properties for new, productive reuses, using existing infrastructure," said EPA Administrator Scott Pruitt. "These grants leverage other public and private investments, and improve local economies through property cleanup and redevelopment."
"Brownfield grants are helping communities throughout our region unlock the unmet economic potential of contaminated and unused lands," said EPA Regional Administrator Pete Lopez.  "EPA is pleased to be an active partner in promoting the cleanup and reuse of Brownfields properties. Once cleanup is complete, the site can be put to reuse with the potential to bring in valuable private sector development, jobs, and additional tax revenue."
The EPA has selected the following central and western New York communities to receive a total of $1 million in Brownfield grants:
City of Rochester – $400,000
EPA has selected the City of Rochester for a $200,000 Brownfields petroleum cleanup grant. Funds will be used to clean up the vacant site at 121-123 Reynolds Street. The small, two tenths of an acre site formerly housed a gas station and automobile repair shop, along with a single-family home. Underground gas storage tanks were present on the property from 1936 to 2011, when they were removed by the City of Rochester after petroleum was found contaminating the soil and groundwater. Grant funds will also be used for post-cleanup monitoring, establishing institutional and engineering controls, and community engagement activities.
The City of Rochester was selected to receive a second $200,000 Brownfields grant for community-wide hazardous substance site assessments. Grant funds also will be used to identify priority Brownfield sites, select sites for assessment, and support community outreach activities. Future plans for sites focus on the needs of low-income neighborhoods, including the redevelopment of a riverfront former coal power generating facility into a mixed-use waterfront project.
"I want to thank the U.S. Environmental Protection Agency for supporting our efforts to bring investment to Rochester's neighborhoods through environmental improvements," said Rochester Mayor Lovely A. Warren. "With the help of the EPA, the City of Rochester has successfully completed nine environmental cleanup projects totaling 24 acres and we are now in the process of redeveloping five of these sites. Abandoned brownfields pose complicated and costly challenges for municipalities and we very much appreciate the U.S. EPA's continued technical assistance and financial support for these projects. Brownfield restoration and mitigation is a critical component of our efforts to create a cleaner, greener, more sustainable city for future generations, which will help us create more jobs, safer and more vibrant neighborhoods and better educational opportunities for our citizens."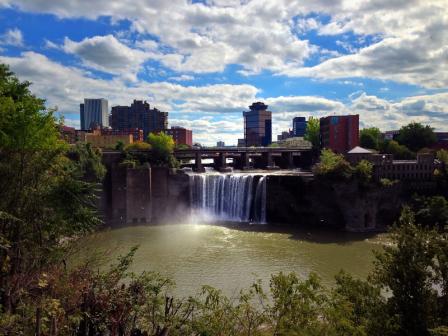 Photo courtesy the City of Rochester
Onondaga County Industrial Development Agency – $200,000
EPA has selected the Onondaga County Industrial Development Agency for a Brownfields hazardous substances cleanup grant. Funds will be used to clean up the former Roth Steel Inc. property located at 800 Hiawatha Boulevard West in Syracuse. The 24-acre site operated as a metal processing and recycling center from the 1950s until 2014, when Roth declared bankruptcy and the facility was closed. The site is contaminated with poly-chlorinated biphenyls (PCBs), metals, and volatile organic compounds. The goal for cleanup is to remove hazardous hot spots on the site to allow recreational use and contribute to the creation of a trail that loops the entirety of the Onondaga Lake shoreline.
"Through the EPA Brownfields Cleanup Program, the Onondaga County Industrial Development Agency will be able to rehabilitate this site back into productive use and prevent this property from blighting the City of Syracuse," the Onondaga County Industrial Development Agency said. "Without the EPA Brownfields Program, Onondaga County Industrial Development Agency would not be able to leverage its funds to the extent necessary to return the former Roth Steel property into a clean and productive site for taxpayers of the County."
County Executive Joanie Mahoney said, "This grant from the EPA Brownfield program will help continue our efforts to clean the Roth steel site and return it to productive use. Rehabilitating this valuable lakefront property is an important component in our efforts to continue to Loop the Lake and encourage further development in and around our Inner Harbor neighborhood."
Herkimer County Industrial Development Agency – $200,000
Herkimer County Industrial Development Agency was selected to receive a community-wide grant to conduct environmental site assessments. Herkimer County will use these funds to identify and assess Brownfield sites located in the county's urban centers and along the waterways in communities such as Ilion, Dolgeville, Frankfort, Herkimer Village, the Town of Herkimer, and Little Falls. Sites chosen for assessment have the potential to be redeveloped as affordable housing located in areas of existing infrastructure or redeveloped as manufacturers for packaging and distribution of food and beverage products.
"This EPA grant would allow us to explore properties that could help encourage economic development throughout the county," said John Piseck, Executive Director of the Herkimer County Industrial Development Agency.
City of Cortland – $200,000
The City of Cortland was selected to receive a community-wide grant to conduct environmental site assessments. Funds from this grant will be used to inventory, characterize, assess, and conduct planning and community engagement activities. Many of the sites are abandoned, unsuitable for redevelopment, community eyesores, and drain the economic vitality of the area. A high-priority site for assessment work under this grant is the former Apex Tools site, which stopped manufacturing in 2015. Since 1834, this factory produced wire rope, chain fittings, and overhead lifting devices. Contaminants that are likely to be present in soil and groundwater at this site include heavy metals, volatile organic compounds, semi-volatile organic compounds and PCBs. This large area of contaminated land is a major concern for the community since it is located in a primarily residential neighborhood with no cleanup plans currently in place.
"The legacy of the City's industrial past now negatively impacts 25% of the land within the City," said Mack Cook, Director of Administration and Finance for the City of Cortland. "Using Brownfields to address the problem is essential to re-constructing the City into a modern live/work environment but this problem is unfortunately beyond the City's fiscal capability to address without outside assistance."
The Brownfields Program targets communities that are economically disadvantaged and provides funding and assistance to transform blighted sites into assets that can generate jobs and spur economic growth. A study analyzing 48 Brownfields sites found that an estimated $29 million to $97 million in additional tax revenue was generated for local governments in a single year after cleanup. This is two to seven times more than the $12.4 million EPA contributed to the cleanup of these brownfield sites. Furthermore, another study found that property values of homes located near Brownfields sites that are cleaned up increased between five and 15 percent after cleanup.

In addition, communities can use Brownfields funding to leverage water infrastructure loans and other financial resources. For example, EPA's Clean Water State Revolving Fund and Drinking Water State Revolving Fund can be used, under certain conditions, to address the water quality aspects of Brownfield sites and the assessment and construction of drinking water infrastructure on Brownfields, respectively. EPA's Water Infrastructure Finance and Innovation Act program may also serve as a potential source of long-term, low-cost supplemental financing to fund Brownfields project development and implementation activities to address water quality aspects of brownfields.

List of the FY 2018 Applicants Selected for Funding: 
https://www.epa.gov/brownfields/applicants-selected-fy18-brownfields-assessment-revolving-loan-fund-and-cleanup-grants
 
For more information on the ARC grants: https://www.epa.gov/brownfields/types-brownfields-grant-funding

For more information on EPA's Brownfields Program: https://www.epa.gov/brownfields

For more information on how Brownfields restoration has positively impacted local economies and the quality of life for neighboring communities: https://www.epa.gov/brownfields/brownfields-success-stories
Follow EPA Region 2 on Twitter at http://twitter.com/eparegion2 and visit our Facebook page,
http://facebook.com/eparegion2.
18-025