News Releases from
Region 02
EPA Regional Administrator Reaffirms Important Partnership with U.S. Virgin Islands Government on One-Year Anniversary of Hurricane Maria
(New York, NY) On the one-year anniversary of Hurricane Maria's landfall in the U.S. Virgin Islands (USVI), U.S. Environmental Protection Agency (EPA) Regional Administrator Pete Lopez met with territory representatives to strengthen the partnerships formed during the emergency response and continue the close coordination on recovery efforts, including solid waste management, drinking water, and wastewater infrastructure issues.
"This week's engagement with the government of the U.S. Virgin Islands was a continuation of our respectful partnership working to help them recover from Hurricanes Irma and Maria," said EPA Regional Administrator Pete Lopez. "There is a very close and strong relationship that EPA had formed over time, but has been amplified by our close collaboration over the past year. The undercurrent of respect between the territory and EPA during my meetings earlier this week was clearly felt."
With an understanding of challenges facing the USVI, Regional Administrator Lopez engaged in conversations on a variety of topics, including environmental, housing, and infrastructure issues, during the several meetings with local leaders. EPA will continue to work and find ways to bring resources to the USVI and look for ways to be flexible to address the territory's unique circumstances and situations.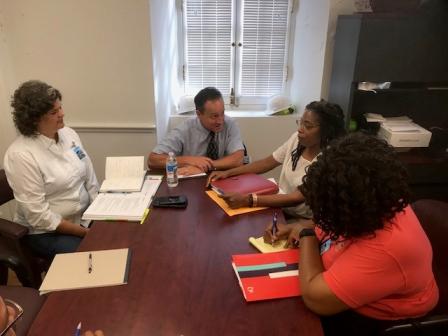 EPA Regional Administrator Pete Lopez with Virgin Islands
Department of Planning and Natural Resources Dawn Henry and EPA staff.
EPA Regional Administrator Pete Lopez with Lieutenant Governor Osbert Potter.
18-073