News Releases from
Region 07
EPA Region 7 Awards Environmental Education Grant Focusing on Groundwater Education, Protection in Nebraska
Environmental News
FOR IMMEDIATE RELEASE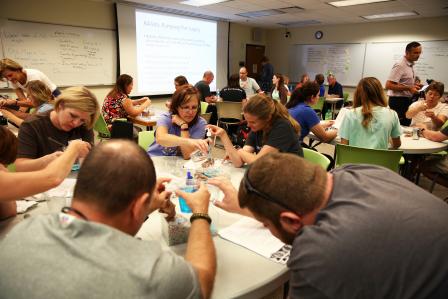 Groundwater Foundation works with students on water quality project(Lenexa, Kan., Aug. 4, 2017) - EPA Region 7 recently awarded an Environmental Education grant to the Groundwater Foundation located in Lincoln, Neb. The total award, $121,342, includes matching funds from the grantee of $30,342. This grant was awarded in conjunction with EPA's Office of External Affairs and the Environmental Education Program in Washington, D.C.
The grant project, "Recharging Groundwater Education," will train teachers to engage students in problem-solving and critical thinking around local environmental threats to the groundwater supply in Nebraska; mentor high school students through outdoor internships and stewardship projects; and promote student exploration and awareness of career opportunities in water-related science and engineering fields.
"This grant helps teach Nebraska students about how to protect their Nebraska groundwater through hands-on experience with nature, and explore Science, Technology, Engineering and Math (STEM) career paths," said EPA Administrator Scott Pruitt.
Jane Griffin, president of the Groundwater Foundation stated, "We are excited about the opportunity to equip educators to teach about groundwater and to complement the lessons learned in the classroom with mentoring opportunities for students to learn about careers and to get involved in local protection efforts. With over 30 years of experience, our organization has witnessed how education is a catalyst to action. We look forward to working with our partners across the state to foster a new generation of environmental stewards, and are grateful EPA makes these efforts possible." 
The Groundwater Foundation is a nonprofit organization that seeks to educate the public about the need to conserve and protect groundwater. Surface water or ground water can serve as sources of drinking water. Protecting source water from contamination can reduce treatment costs, and risks to public health from exposures to contaminated water.
For more information, contact Kathleen Fenton at 913-551-7874 or fenton.kathleen@epa.gov.
# # #
Learn more about EPA's Environmental Education Program
Learn more about EPA Region 7
View all Region 7 news releases