News Releases from
Region 02
EPA Proposes Interim Plan to Address Contamination for Berry's Creek Portion of Ventron/Velsicol Superfund Site in NJ
(New York, N.Y. – April 30, 2018)  The U.S. Environmental Protection Agency (EPA) took an important step towards addressing serious contamination in the Berry's Creek Study Area, which is part of the Ventron/Velsicol Superfund site in Bergen County, N.J., by proposing a plan to take actions to address known sources of the contamination. The Berry's Creek portion of the Superfund site is on EPA Administrator Scott Pruitt's Emphasis List of Superfund sites. EPA is seeking public comment on its proposal.
Under Administrator Pruitt's leadership, the Superfund Program has reemerged as a top priority to advance the Agency's core mission of protecting human health and the environment. Berry's Creek is both within a site on the National Priorities List and Administrator Pruitt's December 2017 list of Superfund sites targeted for immediate and intense attention.
"The proposed plan will address the worst contamination first as EPA develops a final plan to ensure a comprehensive cleanup of the entire site," said EPA Administrator Scott Pruitt. "We are making tremendous progress expediting sites through the entire Superfund remediation process, ensuring polluted areas are addressed quickly and thoroughly." 
"The actions proposed today will mean that we get to the worst pollution in this area first, while we continue to assess what other actions might be needed in the future," said EPA Regional Administrator Pete Lopez. "We know these heavily contaminated areas are contributing to environmental degradation in the Meadowlands, and if we can address these, we will go a long way toward addressing contamination throughout the Berry's Creek area."
"The nation's Superfund program, based on contaminated site objectives developed in New Jersey, has been a tremendous success. However, in some cases cleanup work has been too slow," said New Jersey Department of Environmental Protection Acting Commissioner Catherine R. McCabe. "Placing additional focus and resources on those sites is the right thing to do to ensure protection of natural resources and public health."
Berry's Creek is a tributary to the Hackensack River traveling through Carlstadt, East Rutherford, Lyndhurst, Moonachie, Rutherford, Teterboro, and Wood-Ridge, and includes approximately six miles of waterway, tributaries to the creek, and approximately 750 acres of marshes. The major contaminants in the Berry's Creek Study Area are mercury and PCBs and chromium, which are at high levels in the water and sediment and are also found in the plant and animal life.
Over the course of the past seven years, EPA has overseen an in-depth investigation of the extent of the contamination, examining sediment, water and fish sampling data, as well as assessing how the tidal action in the creek moves sediment through the watershed.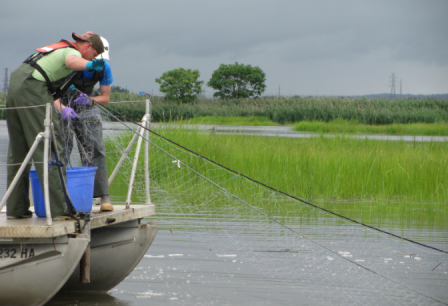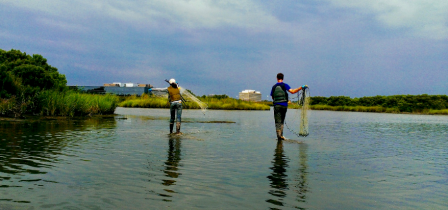 Berry's Creek Study Area, New Jersey.  Photos courtesy of The ELM Group.
The proposed cleanup plan includes bank-to-bank removal of sediment down to 2 feet in portions of the creek with backfilling and capping equal to the depth removed. The proposed approach is an interim step to address the worst of the pollution. EPA will issue a final plan after further studies evaluate whether the cleanup has been effective. A future cleanup plan for the marsh areas also will be developed.
EPA expects that the estimated $332 million proposed cleanup would be conducted and paid for by a group of parties legally responsible for the contamination with oversight by the EPA.
The EPA will hold a public meeting on May 9th in Little Ferry, NJ to explain the cleanup proposal and other options considered and to take public comments.
Little Ferry Public Library
239 Liberty Street
Little Ferry, NJ 07643
6:30pm-8:30pm
Comments will be accepted until June 6, 2018.
Written comments may be mailed or emailed to:
Doug Tomchuk, Remedial Project Manager
U.S. Environmental Protection Agency
290 Broadway, 19th Floor, New York, NY 10007
Email: tomchuk.doug@epa.gov
EPA established a Superfund Task Force in May 2017 to provide recommendations for improving and expediting site cleanups and promoting redevelopment. The Superfund Task Force Recommendations can be viewed at https://www.epa.gov/superfund/superfund-task-force-recommendations.
To see the EPA's cleanup proposal and the full history of the site, please visit: www.epa.gov/superfund/ventron-velsicol
Follow EPA Region 2 on Twitter at http://www.twitter.com/eparegion2 and visit our Facebook page, http://www.facebook.com/eparegion2.

18-029
###