News Releases from
Headquarters
EPA Hurricane Irma Recovery Update for Friday September 29
WASHINGTON (September 29, 2017) – U.S. Environmental Protection Agency (EPA) continues to coordinate closely with local, state, tribal, and federal partners in response to Hurricane Irma.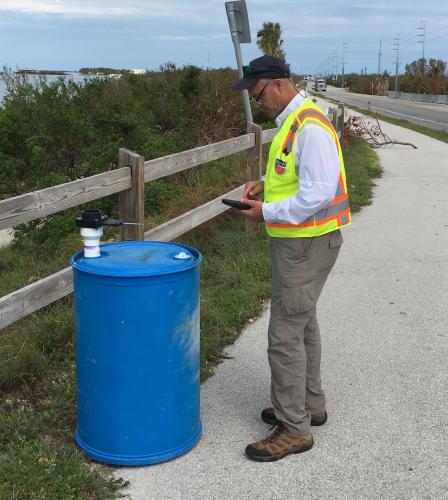 EPA OSC Richard Jardine, EPA is assessing an isolated drum on HWY1, Marathon, FL. Photo taken by Chris, Jones, START Contractor (TTEMI).EPA Region 4 has approximately 29 personnel involved in emergency response efforts as of September 29, 2017. The Mobile Command Post is still supporting the unified command with Environmental Protection Agency (EPA), U.S. Army Corps of Engineers (USACE), and Florida Department of Environmental Protection (FDEP) and response activities with the U.S. Coast Guard (USCG) in Miami.
EPA is currently leading the land-based assessment for identification of staging areas for orphan containers, hazardous waste, and fuel and oil recovered from vessels. EPA has identified the Key West-Marathon Airport as the initial staging area for these items. On September 27, EPA teams started to conduct land-based assessments on the inland areas of Marathon Key and Isla Morada Key. These teams are assessing target points associated with debris fields identified by the National Oceanic and Atmospheric Administration (NOAA).
Earlier this week FDEP requested EPA's Facility Assessment Support Team (FAST) provide assistance in assessing the status of 1,255 non-community public water systems. Yesterday, 592 of the 1,255 non-community public water system assessments were completed. Additionally, the Key Largo and Naples Water Team's completed their FDEP-assigned field assignments and demobilized yesterday.
Two Landfill Technical Specialists from the Region Resource Conservation and Restoration Division (RCRD) arrived in the Florida Keys. They will continue to work with the FDEP Marathon Key Branch on implementing FDEP's Disaster Debris Management Site Checklist through October 3, 2017.
Region 4 Federally Recognized Tribes:
Region 4 continues to coordinate with the Bureau of Indian Affairs to offer assistance a needed to tribes in the impacted areas.
Permits
NPDES Permits – Last week, EPA issued a letter to FDEP to ensure that all facilities impacted by Irma are familiar with the provisions included in their National Pollutant Discharge Elimination System (NPDES) permits that allow for temporary noncompliance during emergency circumstances. This action helps ensure ports and other facilities get back into operation as quickly as possible while minimizing environmental impacts.
Enforcement Actions
No Action Assurance (NAA) - EPA policy allows the agency to issue NAAs in cases where it is necessary to avoid extreme risks to public health and safety and where no other mechanism can adequately address the matters. The agency has issued the following NAAs related to Hurricane Irma:

On September 21, 2017, EPA extended enforcement discretion for petroleum distribution facilities, gasoline storage facilities and bulk fuel terminals in Florida that have been impacted or damaged by Hurricane Irma. This action will terminate on October 6, 2017. 
Fuel Waivers
On September 21, 2017, EPA waived the highway diesel fuel red dye requirements to allow the use of 15 parts per million sulfur non-road diesel fuel for on-highway vehicles in Florida, effective immediately and through October 6, 2017. Diesel fuel distributed under this waiver may not be introduced into terminal storage tanks from which diesel is dispensed into trucks for distribution to retail outlets after October 6, 2017.
For information and updates from EPA, visit: www.epa.gov/hurricane-irma
###