West Lake Landfill - Additional Sediment Sampling Results, September 2016
– THIS PAGE WAS ARCHIVED IN OCTOBER 2018 –
The content on this archived page is not maintained and may no longer apply

. The Superfund Site Profile Page for the West Lake Landfill Site includes information such as the current status of cleanup efforts and what cleanup milestones have been reached. EPA fully transitioned from this archived page to the Site Profile Page in October 2018. The Site Profile Page is available on EPA's website, with a separate link in the Related Links box below.
The U.S. Environmental Protection Agency (EPA) has released the results from the sediment sampling effort June 10, 2016, at the West Lake Landfill. The sediment sampling results did not indicate radiologically impacted material (RIM) at any location, with all results below the definition of RIM of 7.9 picocuries per gram (pCi/g) of combined radium and/or combined thorium.
On June 10, 2016, the Potentially Responsible Parties (PRPs) under EPA oversight collected three of five planned samples (AC-SED-6, AC-SED-7, and AC-SED-8) and a resample of SED4. EPA staff collected split samples at the same time. Two of the additional proposed sampling locations (AC-SED-9 and AC-SED-10) were not sampled, due to standing water in the North Surface Water body. The North Surface Water body sits on West Lake Landfill property and on part of the Crossroads Industrial Park.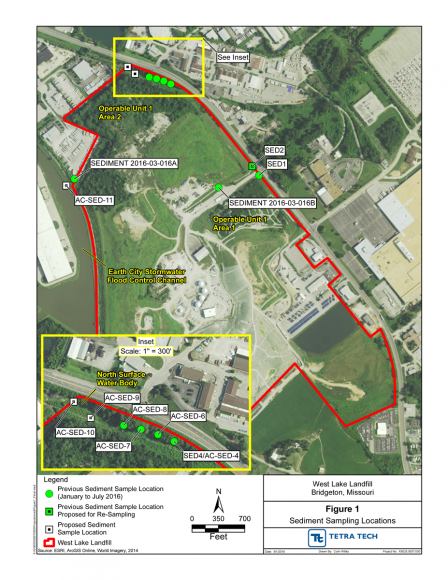 In addition to the two sediment samples that remain to be collected, EPA plans to resample SED2 and collect an additional sample (AC-SED-11) northwest and downgradient of SEDIMENT 2016-03-016A in the Earth City Stormwater/Flood Control Pond. The map at right (Figure 1) depicts the locations of previously sampled locations and the locations EPA currently plans to sample. EPA's validated data associated with the June 10 sampling event (PDF)(556 pp, 11.1 MB, About PDF)
In January and March of 2016, EPA took a total of five split sediment samples at the West Lake Landfill, while overseeing sediment sampling conducted by the PRPs. One of those samples, SED4, along the northeast edge of the West Lake Landfill, indicated that the sediment collected met the definition of RIM. The combined thorium concentrations for the PRPs' SED4 and EPA's duplicate sample from that same location were 16.16 pCi/g and 20.63 pCi/g, respectively.
On May 23, 2016, EPA required that the PRPs collect five additional sediment samples, as well as resample the SED4 location. The additional sediment sampling locations were downgradient from the SED4 location, along a densely vegetated drainage feature that conveys stormwater into the North Surface Water body. The North Surface Water body is an area that is inundated with water throughout most of the year. Stormwater drains to and remains in this area from the West Lake landfill, Crossroads Industrial Park, and portions of St. Charles Rock Road.