National Enforcement Initiatives for Fiscal Years 2014-2016: Keeping Industrial Pollutants Out of the Nation's Waters (Fiscal Years 2017-19)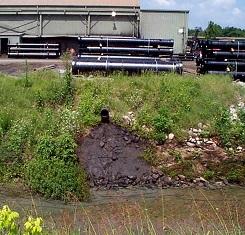 Industrial Water Discharge
Problem
Certain facilities in industrial sectors like chemical and metal manufacturing, mining and food processing are responsible for nutrient and metal pollution in lakes, rivers and streams, and can degrade water quality and threaten drinking water sources.
Goal
EPA's focus on facilities in these industrial sectors, driven by water pollution data, will build compliance with Clean Water Act discharge permits and cut illegal pollution discharges, which impact water quality. 
More Information
View EPA's Discharge Monitoring Report Pollutant Loading Tool, which provides various data about water pollution discharges across the country.  
Read about the National Pollutant Discharge Elimination System permit program, which addresses water pollution by regulating point sources that discharge pollutants into U.S. waters.