EPA Public Engagement Highlights for the Week of November 9, 2015

---
Historic International Agreement Reached to Reduce HFCs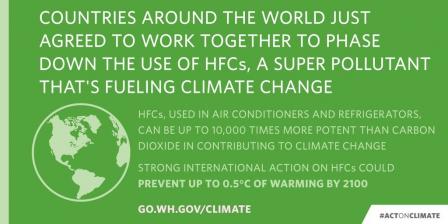 Small changes in the average temperature of the planet can translate to large and potentially dangerous shifts in climate and weather.Last week, countries across the world took the historic step to work together on a 2016 Amendment to the Montreal Protocol to reduce the production and consumption of harmful hydrofluorocarbons (HFCs). EPA Administrator Gina McCarthy attended the 27th Meeting of the Parties to the Montreal Protocol, representing the United States.
HFCs are greenhouse gases that can be up to 10,000 times more potent than carbon dioxide in contributing to climate change. A 2016 amendment to the Montreal Protocol to phase out HFCs will achieve substantial greenhouse gas reductions and could avoid up to 0.5 degrees Celsius of warming by 2100.
---
Attend a Hearing on the Proposed Federal Plan for the Clean Power Plan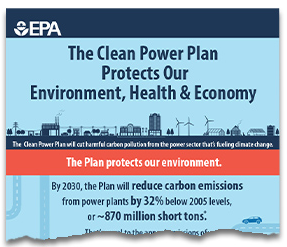 Cleaner air means up to 90,000 fewer asthma attacks for kids.On August 3, 2015, President Obama and EPA announced the Clean Power Plan – a historic and important step in reducing carbon pollution from power plants that takes real action on climate change. Shaped by years of unprecedented outreach and public engagement, the final Clean Power Plan is fair, flexible and designed to strengthen the fast-growing trend toward cleaner and lower-polluting American energy. 
EPA recently proposed a federal plan for the Clean Power Plan that will also serve as a model rule for states developing their own plans. EPA is holding public hearings on the proposed federal plan. Hearings will be held November 12-13 in Pittsburgh, PA; November 16-17 in Denver, CO; November 18-19 in Washington, DC; and November 19-20 in Atlanta, GA.
EPA will be accepting comments on the proposed federal plan through January 21, 2016. 
---
Award of $3.3 Million in Environmental Education Grants Continues to Raise Awareness
Since 1992, EPA has awarded more than $65.5 million in EE grants.EPA recently awarded $3.3 million in grants to fund environmental education (EE) projects across the country and Puerto Rico. Projects include a community-based program to study Monarch butterflies, a watershed and stream monitoring teacher training program, a classroom-based simulation of the United Nations Climate Summit, and a mobile laboratory. Additional projects include school-based, after-school and non-formal EE programs focusing on a range of environmental issues, from air quality to recycling.
The grantees were selected in a highly competitive process from over 400 applicants. This longstanding program supports EE projects that increase public awareness about environmental issues and provides participants with the skills to take responsible actions to protect the environment.
Learn more about the awardees and the EE grant program.
---
Apply for the P3 Student Design Competition by December 8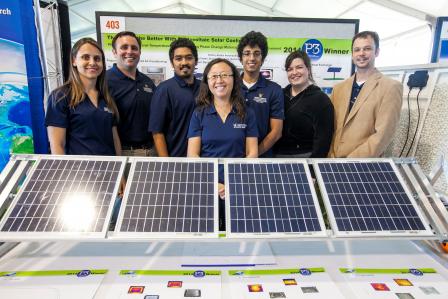 One of 2014's winners designed a solar powered water purification backpack for use in post disaster response.EPA's P3 - People, Prosperity, and the Planet - Program is a unique college competition that inspires solutions for a sustainable future. P3 offers quality hands-on experience that brings classroom learning to life. Teams of graduate and undergraduate students focus on the challenges facing the developed and developing worlds and design tangible, cutting-edge solutions to real-world problems. 
The competition has two phases. For the first phase of the competition, teams are awarded a $15,000 grant to develop their idea. They bring the design in April to the National Sustainable Design Expo to compete for the P3 Award and a grant of $75,000 to take their design to real world application.