EPA Public Engagement Highlights for the Week of March 14, 2016

---
EPA Taking Steps to Cut Methane Emissions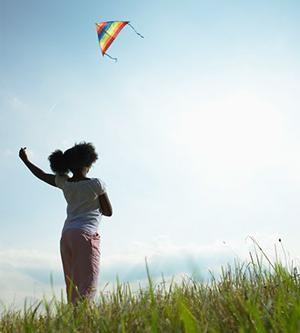 Over 60% of methane emissions come from human activities.Methane is upwards of 25 times more potent than carbon dioxide in warming the planet and is a key constituent of natural gas. In 2012, EPA set standards to cut pollution, including methane, from natural gas wells. Last summer, EPA proposed standards to address methane from new and modified sources in the oil and gas industry.
EPA will begin developing regulations for methane emissions from existing oil and gas sources. Read a blog post by EPA Administrator Gina McCarthy on how EPA plans to work with stakeholders to address methane from these sources.
---
Apply for Teacher Award by May 16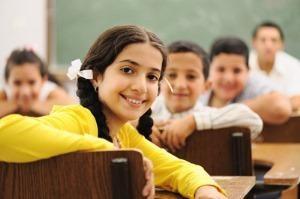 Teacher awardees and their schools each receive up to $2,500 for environmental education.EPA is now accepting applications for the Presidential Innovation Award for Environmental Educators (PIAEE). The award recognizes outstanding K-12 teachers who employ innovative approaches to environmental education and use the environment as a context for learning. 
Teacher awardees receive up to $2,500 to further their professional development in environmental education. Past winning teachers led unique programs such as conserving nearby aquatic ecosystems, building a hydrogen fuel-cell powered Model T car, and developing outdoor laboratories and classrooms. Applications are due May 16, 2016.
---
Update on Enforcement and Compliance Data Tool - Webinar on March 22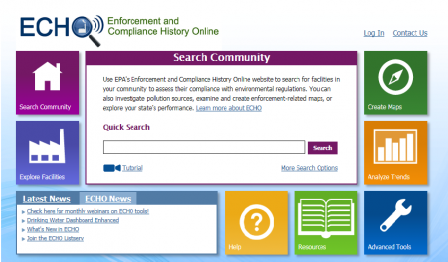 Using ECHO you can find out what facilities are in, or out of, compliance with environmental regulations.EPA's Enforcement and Compliance History Online tool, known as ECHO,  allows you to investigate pollution sources in your community, examine and create enforcement-related maps, and explore your state's performance.
This tool is part of EPA's efforts to provide information to the public and increase transparency. EPA is continuously adding new types of data and  recently added data on criminal enforcement cases to ECHO.
Register for a webinar on March 22, 2016 at 1:30 p.m. EDT to learn about the basics of ECHO and get more information about pollution sources in your community.
---
Find and Fix Leaks in Your Home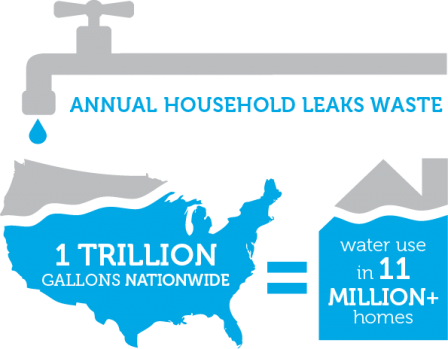 Common types of leaks found in the home include worn toilet flappers and dripping faucets. These are easy to fix.Household leaks can waste more than 1 trillion gallons of water annually nationwide. Join EPA March 14-20 for Fix a Leak Week to find and fix leaks in your home, saving you valuable water and money.
A good method to check for leaks is to examine your winter water usage. It's likely that a family of four has a serious leak problem if its winter water use exceeds 12,000 gallons per month. You can also check your water meter before and after a two-hour period when no water was being used. If the meter does not read exactly the same, you probably have a leak. Learn how to check and fix leaks in your home.