EPA Highlights for the Week of October 17, 2016

---
U.S. Joins Historic Agreement to Fight Climate Change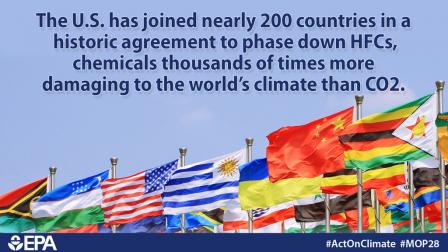 Protecting the air we breathe and slowing the effects of climate change are a core part of EPA's mission.Last week, the U.S. joined nearly 200 nations in Kigali, Rwanda to reach a historic agreement to protect our planet by limiting the use of hydrofluorocarbons (HFCs), a damaging greenhouse gas used in some refrigerators and air conditioners. Scientists predict that this agreement will prevent a full half a degree centigrade of warming by the end of the century.
EPA recently finalized two rules to limit the use and emissions of HFCs. The first, under the Significant New Alternatives Policy (SNAP) program added new alternatives to the list of acceptable substitutes for HFCs. The second rule strengthened current refrigerant management practices.
Read a blog post by EPA Administrator Gina McCarthy about this step forward in the fight against climate change.
---
Join a Community Planning Assistance Webinar on October 20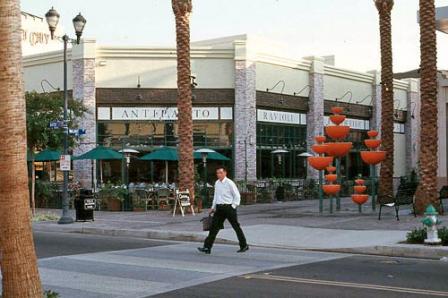 Communities selected for assistance will work with an EPA team of experts to realize their local revitalization goals.EPA recently announced the opening of three technical assistance programs for rural communities to help revitalize downtown areas: Local Foods, Local Places, Cool & Connected, and Healthy Places for Healthy People. EPA is offering this assistance as part of Rural Advantage, a suite of federal economic development planning assistance programs for rural communities.
Join a webinar tomorrow, Thursday, October 20 at 2:00 pm EDT to learn more about the assistance programs. You can also ask questions about the application process.
---
EPA Honors 2016 Green Power Leaders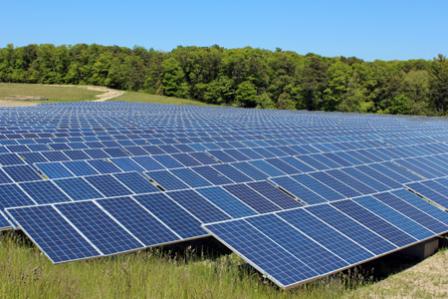 Green power is becoming more affordable and mainstream because of leaders like these award winners.EPA recently recognized 16 Green Power Partners across the country - including Apple, Cisco Systems, Goldman Sachs, BNY Mellon, Jackson Family Wines, Kohl's, and SUNY Buffalo –for achievements in advancing the nation's renewable energy market and helping to reduce greenhouse gas emissions that contribute to climate change.
The award winners are being recognized for their efforts in expanding the domestic renewable energy market. From using enough green power to meet 100 percent of electricity needs to signing long-term contracts to enable new renewable energy projects, these organizations are demonstrating leadership by furthering the case for accessible, affordable green power use. 
Watch a videoExit to learn more about the Green Power Partnership.
---
Celebrating 30 Years of Citizens' Right-to-Know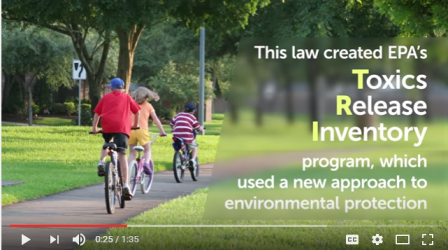 By making data easily accessible through online tools, maps, and reports, TRI is helping protect our health and environment.30 years ago, the Toxics Release Inventory (TRI) was established through a law co-authored by the late Senator Frank Lautenberg of New Jersey. By making information about industrial management of toxic chemicals available to the public, community members, researchers, industrial facilities, investors, and government agencies can make more informed decisions that impact human health and the environment.
TRI also creates a strong incentive for companies to reduce pollution and be good neighbors in their communities. Find out more about the power of TRI data and the 30th Anniversary.
Watch a videoExit on the power of a community's right to know.
Read a blog post by Assistant Administrator Jim Jones on the 30th anniversary of TRI.