EPA Highlights for the Week of June 20, 2016

---
TSCA Reform: A Bipartisan Milestone to Protect Our Health from Dangerous Chemicals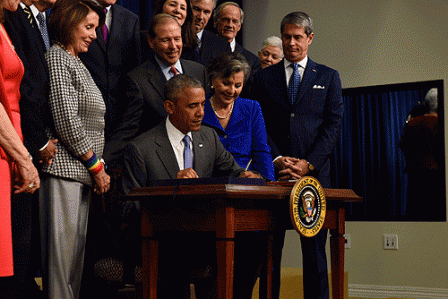 The TSCA reform law is a huge win for public health.President Obama recently signed a bipartisan bill to reform the Toxic Substances Control Act (TSCA), the first major update to an environmental statute in 20 years. TSCA was first passed in 1976 to help keep dangerous chemicals off the market and avoid making people sick.
The new law requires EPA to evaluate existing chemicals with clear, enforceable deadlines. Additionally, under the new law, EPA will evaluate chemicals purely on the basis of the health risks they pose.
Read a blog post by EPA Administrator Gina McCarthy on this new bipartisan milestone to protect human health.
---
National Pollinator Week is June 20-26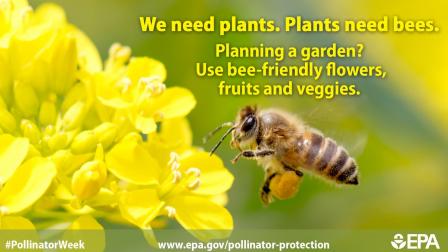 About 1/3 of the food you eat, such as almonds and berries, depends on pollinators.Pollinators, including bees, butterflies, birds, and bats, are an important part of our ecosystem and food supply chain. Plants, like fruits and vegetables, need bees and other pollinators to help them grow. 
This week is National Pollinator Week, a time dedicated to educating Americans about the importance of pollinators. EPA has tips and resources for the general public, growers, and more, inlcluding a new infographic (PDF) to demonstrate what you can do to protect pollinators in your yard.
Learn more about what EPA is doing to protect bees and other pollinators.
---
Celebrating 10 Years of WaterSense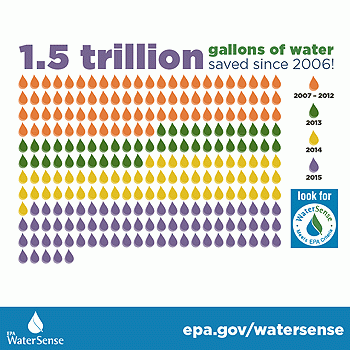 Save water and protect the environment by choosing WaterSense labeled products.Conserving water is more important than ever. Two-thirds of the continental U.S. has experienced drought in the last few years. June marks the 10 year anniversary of EPA's WaterSense program, which has helped save 1.5 trillion gallons of water. The program has also helped consumers save $32.6 billion in water and energy bills.
Look for the WaterSense label to help you identify high-efficiency products for your home. Save money by fixing small household leaks. Find more tips to help you conserve water at home.
Read a blog post by Joel Beauvais, Acting Assistant Administrator for the Office of Water, on this milestone for the WaterSense program.
---
EPA Proposes Additional Details on the Clean Energy Incentive Program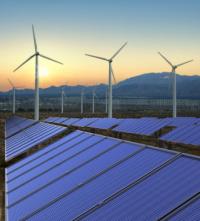 This program benefits communities by providing incentives for renewable energy and energy efficiency.EPA is proposing additional details for public comment about the optional Clean Energy Incentive Program (CEIP), which was included in the final Clean Power Plan. The CEIP was designed to help states and tribes meet their goals under the plan by encouraging early investments in zero-emitting renewable energy generation, and by removing barriers to investment in energy efficiency in low-income communities. 
The proposal provides a key opportunity for stakeholders to comment on several program design elements. For example, stakeholders can comment on criteria for eligible CEIP low‐income community projects.