EPA Highlights for the Week of August 24, 2015

---
Clean Power Plan Encourages Energy Efficiency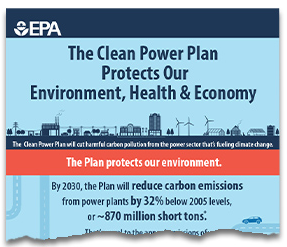 The Clean Power Plan will spur energy efficiency and save consumers money on their electric bills.President Obama recently revealed EPA's finalized Clean Power Plan, a historic step to cut the carbon pollution driving climate change. Carbon pollution from power plants is our nation's biggest contributor to climate change, and it threatens what matters most — the health of our kids and the safety of our neighborhoods. The Clean Power Plan sets common sense, achievable state-by-state goals to cut carbon pollution from power plants across the country.
With the Clean Power Plan, America is leading by example — showing the world that climate action is an incredible economic opportunity. Read a blog post by EPA Assistant Administrator Janet McCabe on ten ways the Clean Power Plan encourages energy efficiency.
Watch a video where Administrator Gina McCarthy explains the Clean Power Plan.
---
Join Clean Water Rule Webinar on August 27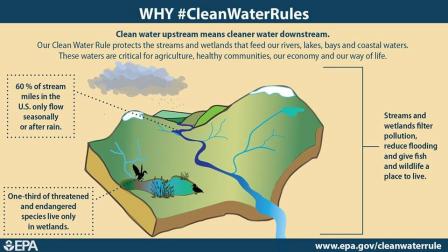 Clean water upstream means cleaner water flowing into rivers, lakes, bays, and coastal waters.In a historic step for the protection of clean water, EPA and the Army signed the Clean Water Rule on May 27, 2015, to protect streams and wetlands that form the foundation of the nation's water resources from pollution and degradation.
EPA will host a webinar on Thursday, August 27 at 1:00 p.m. EDT to provide more details about the final Clean Water Rule. In addition to an overview of the final rule, the webinar will answer some commonly asked questions and discuss what to expect as the rule is implemented.
---
Registration for EPA's Campus RainWorks Challenge Opens September 1
In 2014, $16,000 was split by the winning teams out of 64 entries of green infrastructure designs.EPA is calling for entries in the agency's annual Campus Rainworks Challenge, a green infrastructure design competition for undergraduate and graduate students. Student teams, working with a faculty advisor, will be encouraged to incorporate climate resilience into their stormwater management designs.
Registration opens September 1 and closes September 30, 2015. First place teams will earn $5,000. Learn more about the challenge and how to register.