EPA Survey Ship to Visit Washington, Public Welcome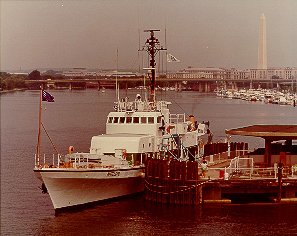 [EPA press release - July 19, 1979]
The Environmental Protection Agency's new Ocean Survey Vessel Antelope will put in to Washington for a four-day visit starting July 20. She will be berthed at Pier #4, 6th and Water Streets, S.W. (off Maine Avenue), and will be open to the public on Saturday and Sunday, July 21-22, from 10:00 a.m. to 2:00 p.m.
"For too long we have considered our oceans an international refuse container," said EPA's Deputy Administrator Barbara Blum. "Now we are limiting ocean dumping and other harmful practices. The ship will help monitor those activities."
The ship's initial three-year mission is to survey sites now used for the disposal of wastes in the ocean. Scientific data collected by the Antelope will aid EPA in its responsibility to oversee ocean dumping activity carried out under EPA and the Corps of Engineers permits.
The 165-foot Antelope was launched in 1966 as a U.S. Navy patrol gunboat. She served with the U.S. Seventh Fleet in Vietnam and with the Sixth Fleet in the Mediterranean, and was retired in 1977.
Now on her first cruise as an EPA survey vessel, Antelope is en route from her home port of Annapolis, Maryland, to Jacksonville, Florida. There she will undergo additional retrofitting and upkeep work.
The Antelope has already been extensively converted from her original Navy configuration to perform peacetime scientific missions as an ocean survey vessel. The conversion entailed the removal of all weaponry and the installation of three complete laboratories and a survey center containing mini-computers and analytical equipment. A crane has also been installed on the after portion of the ship to handle survey gear, and the vessel has been equipped with special stabilizing equipment for use in rough seas.
In the first year of her new oceanographic mission, the Antelope will perform surveys off the U.S. East Coast and Puerto Rico.
EPA regulates the dumping of industrial wastes, dredged materials and sewage sludge by issuing the required dumping permits only in cases where the ocean environment will not be disrupted and no feasible alternative exists. Under the Agency's regulatory program, ocean dumping off the United States has declined from almost 11 million tons in 1973 to about 7.4 million tons in 1977. This total will decrease further, since EPA regulations call for the phase-out of all ocean dumping of sewage sludge by the end of 1981.
The Antelope is being operated under contract for EPA by Interstate Electronics Corporation of Anaheim, California. For her survey work she is manned by a team of twelve scientists, assisted by an equal number of operating crewmen.
---
FACT SHEET:
Ocean Survey Vessel Antelope
HISTORY
The Antelope was launched in June, 1966, and was commissioned in November, 1967, as a U.S. Navy patrol gunboat. She served with the U.S. Seventh Fleet in Vietnam and with the Sixth Fleet in the Mediterranean; she was retired from Navy service in October, 1977. Recently she was extensively refitted for her new peace-time mission.
SPECIFICATIONS
Length, 165 feet; Beam ( ), 24 feet; Draft (depth), 5 feet; Displacement, 224 tons; Speed, 15 knots.
MISSION
The Antelope's initial three-year mission is to survey ocean disposal sites and to conduct research data collection to aid EPA in its responsibility to oversee ocean disposal of industrial wastes, dredged material and sewage sludge. Initially, the Antelope will conduct these surveys at dumpsites in the waters off the East Coast and Puerto Rico. Later, she will continue her work in waters off the West and Gulf Coasts. The ship can remain at sea for up to 10 days.
SCIENTIFIC CREW
The ship is staffed by a Survey Party of twelve, which includes the Party Chief, two watch leaders, biologists, chemists, sample analysts, an electronic specialist, and a mechanical/technical specialist.
OPERATING CREW
Along with the Survey Party the ship is manned by a twelve-member crew, consisting of the ship's Master; first, second and third mates; two seamen; engineers; a cook; and a steward.
SCIENTIFIC EQUIPMENT
The Antelope is equipped with three laboratories. These are the wet lab, the chemistry lab, and the microbiology lab. In addition to these facilities, the shp has a computerized survey center, from which survey operations are conducted. Deck equipment includes underwater cameras, dredges and hydraulic winches. These were placed aboard after the ship's weaponry was removed when the ship was converted into its present configuration. The equipment allows the ship to take physical, chemical, biological and geological samples of the water and bottom sediments.