Overview
The Information Collection Rule (ICR) data were collected as part of a national research project to support development of national drinking water standards which protect public health. They should NOT be used to make personal judgments about individual health risk, nor should they be used to determine local public water system compliance with drinking water standards. Use the Safe Drinking Water Query Form to check whether or not your water system has violated drinking water standards.
The Information Collection Rule (ICR) required EPA to collect research data on:
The data will be used to help assess the potential health risks of pathogens, disinfectants, and disinfection byproducts, and will be used to guide future regulatory and public health decisions. See EPA's Microbial and Disinfection Byproducts (MDBP) page for more information.
You can retrieve summary reports on microbial and disinfection byproduct data at national, state and water system levels through an ICR Query. The diagram below shows the types of data you can access through a query as well as where the water samples, which provided the data, were taken. Pathogen samples were taken from the source water prior to treatment and disinfection byproduct samples were taken from distribution system or at the entry to the distribution system (the pipes that carry water from the treatment plant to the customer's taps).
Sampling Overview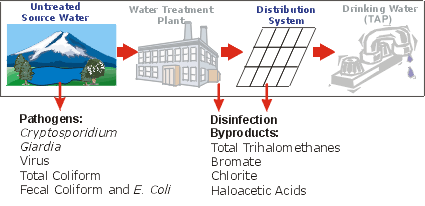 Starting in 1999 water systems must provide an annual report to their customers on the quality of their drinking water. Your water system's report (the Consumer Confidence Report) may be on the Internet. EPA's website has links to many of these reports.