Give Your Home an Energy Checkup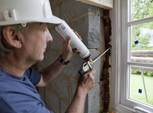 Talk with your family about hiring a professional to figure out how your home might be losing energy through leaky doors and windows, poor insulation, and more. Start by contacting your local electric company to see if they'll do an audit for a discounted fee or even for free. Your family can also "do it yourself" with help from the ENERGY STAR Do It Yourself Guide and the U.S. Department of Energy's Do It Yourself Home Energy Audits Web page.
Check out the Department of Energy's video
to learn more about how your home uses energy.