Modeling Subsurface Petroleum Hydrocarbon Transport
---
Biodegradation influences the extent of contamination, as contaminants that biodegrade may become limited in their extent.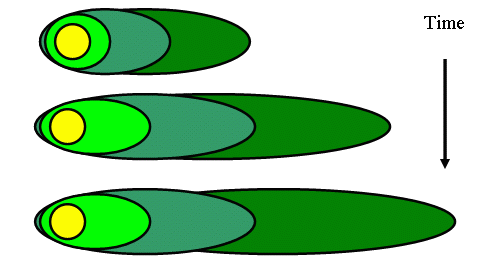 | | |
| --- | --- |
| source | |
| xylenes | |
| benzene | |
| MTBE | |
In this example the benzene and xylenes plume extend a certain distance from the source. Their extents evolve over time from the first drawing to the second. If at that time, the rate of biodegradation balances the transport and the release of mass into the aquifer, then the plume will no longer expand. Generally BTEX are biodegradable in most aquifers and the length of their plumes are limited.
MTBE, although biodegradable, is less so than BTEX and many MTBE plumes extend further than BTEX plumes. These are much less subject to limitation from biodegradation and can travel further in aquifers.
---