EPA On-line Tools for Site Assessment Calculation
---
Required Input
The OnSite plume diving calculator requires input to
Define the hydraulics of the flow system
Contaminant source and observation well location
The single screen of the plume diving interface is used for parameter entry, reporting of results and graphing the solution. The following drawings show an exploded view of the interface.


Flow System Hydraulics
The aquifer is divided into segments and for each the hydraulic conductivity, recharge rate, and length must be specified. A uniform aquifer can be simulated by using the same parameter values for each segment.



Source and Observation Well Locations
Two heads are specified, one for the upgradient end of the flow domain at point (A) and one at the downgradient end (B). Within this domain, the locations for the source of contaminants and the well are then entered on the side panel.
For a source that covers a large area (free product zone, landfill, etc.) the source location should be taken as the down gradient edge of the source.
The well location is used to show how much plume diving to expect at a point down gradient from the source. The well is indicated by a red line on the output that shows the difference between the water table (in blue) and the top of the plume (in green).
Model Results
In addition to the graphical output, the depth below the water table is output, as is the over all mass balance error. The source and well locations are echoed in this section.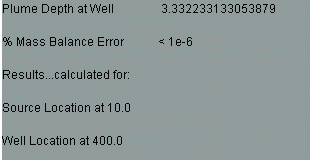 Drawing Options
The features graphed on the drawing can be customized by
Labeling
Drawing the water table
Drawing the top (upper bound) of the plume
Vertically exaggerating the drawing



Drawing the top (upper bound) of the plume automatically turns on drawing of the water table. When vertical exaggeration is turned off, the horizontal and vertical scales of the drawing are the same.
---