Willamette Basin Alternative Futures Analysis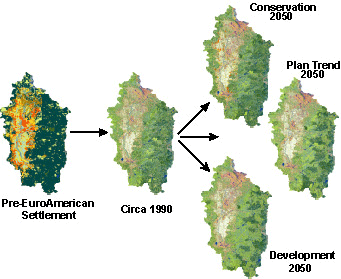 The Willamette Basin Alternative Futures Analysis was funded by EPA and conducted by the Pacific Northwest Ecosystem Research Consortium, consisting of scientists at EPA-WED, Oregon State University, the University of Oregon and several other institutions.
It was designed to help local communities make informed decisions about land and water use. Three alternative visions for the future in the Willamette River Basin (Oregon) were designed with input from local stakeholders. The likely consequences of these alternative futures were evaluated for water availability, stream biota, the Willamete River and terrestrial wildlife.
The project was completed in 2002. A brief overview of the results can be viewed as a PDF file:
Two-Page format
Nine-Page format
The Willamette River Basin Planning Atlas: Trajectories of Environmental and Ecological Change (D. Hulse, S. Gregory, and J. Baker, editors), published in 2002 by Oregon State University Press, provides a more complete description of the project. For additional information, contact Joan Baker (541-754-4517, baker.joan@epa.gov), or see the Consortium's web page,
http://oregonstate.edu/dept/pnw-erc/.