Water: Contaminated Sediments
You are here: 
Water

Pollution Prevention & Control

Sediments

Contaminated Sediments

Sediment Quality Assessment
Sediment Quality Assessment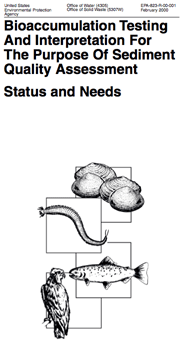 Bioaccumulation Testing and Interpretation for the Purpose of Sediment Quality Assessment
Status and Needs
February 2000; EPA 823-R-00-001
We prepared this document to serve as a status and needs summary of the use of bioaccumulation data. The document is the result of a collaborative effort among the members of our Bioaccumulation Analysis Workgroup. This document was also prepared to respond to increased interest in the fate and effects of persistent, bioaccumulative, and toxic (PBT) pollutants, as evidenced by the development of our multimedia PBT Strategy. The purpose of this document is to describe existing knowledge on the use of bioaccumulation data as part of sediment quality assessments.
This document:
Provides a comprehensive summary of existing knowledge on bioaccumulation.
Provides a compilation of exposure and effects data for persistent, bioaccumulative chemicals.
Discusses factors that affect the bioavailability of sediment-associated contaminants.
Identifies how various programs currently use bioaccumulation data for sediment management decisions.
Identifies issues and research needs for interpreting bioaccumulation data for the purpose of assessing sediment quality.
Bioaccumulation Testing & Interpretation Document (PDF) (136 pp, 364K)
Appendices (PDF) (821 pp, 3.0MB)
For quicker downloads, click on the individual parts of the appendix below:
---