Office of Strategic Environmental Management
Related Links
Note: EPA no longer updates this information, but it may be useful as a reference or resource.
---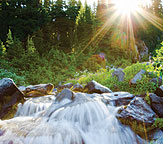 Additional EPA resources:
EPA's Sustainability Web site examines sustainability and provides links to EPA programs and tools in four key areas: the Built or Human-Created Environment; Water, Ecosystems and Agriculture; Energy and the Environment; and Materials and Toxics. Links to the programs and tools are organized in three categories: Policies and Programs; Research, Tools and Technologies; and Assessments and Performance Measures.
For information on other federal stewardship initiatives, refer to the following sites:
Office of the Federal Environmental Executive promotes sustainable environmental stewardship throughout the federal government. Activities include: encouraging sustainable practices; identifying and sharing success stories, best practices, and other tools to make sustainable practices easier to adopt and maintain; providing training, awareness, and outreach; assisting in coordinating and advancing sustainability policies across agencies; publicly advocating and supporting sustainable practices and policies; and measuring and reporting on agencies' progress.


Cooperative Conservation.gov is a partnership among Federal agencies to provide Web-based information, tools, and resources to enhance, restore, and protect lands, waters, air, and wildlife resources on public and private lands. The partner agencies include the Department of Agriculture, Department of Commerce, Department of Defense, Department of the Interior, and the Environmental Protection Agency.