You are here: EPA Home
Keeping Trash Out of Waterways
Keeping Trash Out of Waterways: LA Water Board Leads the Way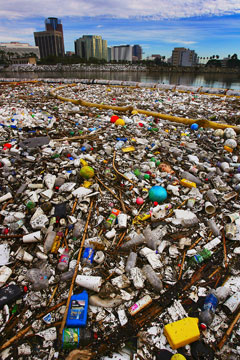 The TMDL process provides an assessment and planning framework for pollutant load reductions or other actions needed to attain water quality standards that protect aquatic life, drinking water, and other designated uses. TMDLs address all significant pollutants in a water body identified by the state as impaired.
In urban areas of the Pacific Southwest, millions of pounds of litter accumulate in streets and parking lots during the long dry season, then are flushed into storm drains by the first major rainstorm. Storm drains empty into streams, bays and harbors, and onto beaches, depositing loads of trash that are not just unsightly, but a serious health hazard to people, wildlife and fish.
Trash harms birds and marine life who consume small pieces, mistaking them for food. Some of the waste contains pathogens that sicken swimmers and surfers.
Last year, the Los Angeles Regional Water Quality Control Board adopted a Total Maximum Daily Load (TMDL) for trash in the LA River Watershed. This landmark TMDL was originally adopted by the Regional Board in 2001 and EPA-approved in 2002, but litigation required the TMDL to be set aside until it was re-adopted in 2007. Following its full adoption through the water quality standards approval process, the wasteload allocations will be brought into the Los Angeles County stormwater permit.
In its support of the Los Angeles Regional Board, EPA made it clear that preparation of this TMDL, the nation's first to regulate trash as a pollutant, was a key action to address this serious problem. Under the TMDL, cities, Los Angeles County and CalTrans prevent trash from reaching storm drains and fouling waterways and beaches. They are reducing trash discharges incrementally over nine years, with a goal of zero by 2016. The Regional Board documented the huge amounts of trash involved—more than 4.5 million pounds per year, which costs downstream cities hundreds of thousands of dollars each year to remove from their harbors and beaches.
Some cities in the Los Angeles area have already implemented the necessary measures, including what are known as 'full capture systems'—devices that trap all particles retained by a 5 mm mesh screen and have a design treatment capacity of not less than the peak flow rate resulting from a one-year, one-hour storm in the subdrainage area. The Regional Board has certified various full-capture devices proposed by five cities, the County of Los Angeles, and Caltrans that local governments can use to achieve compliance.
These devices are most effective when not overwhelmed with trash and debris. We all do our part by keeping trash and other waste off the streets as cities continue public outreach, provide receptacles for trash, and routinely sweep streets and clean catch basins.
Meanwhile, the San Francisco Bay Regional Water Quality Control Board has held hearings on a proposal to include similar limits in its region-wide discharge permit for cities that discharge storm water (and trash) into the bay. Local environmental groups have documented the problem of trash-covered creeks that drain to the bay.
The regional water boards in Los Angeles and San Francisco Bay Area have recognized that voluntary measures aren't enough to keep trash out of the waterways. It's a serious water pollution problem, and EPA supports the Regional Boards' regulatory actions to make sure that every local jurisdiction participates in solving it.