SMM Web Academy Webinar Series:
Getting those BIG office buildings to RECYCLE!
February 7, 2013, 1:00–2:30 PM EST
Description:
This webinar will focus on recycling professionals who have successfully worked with property managers and others to set up and run programs to recycle paper, OCC and containers from several large office buildings, government and commercial. During this webinar you will hear about:
Who are the right people to contact
How to work with the building's owners, employees and custodial staff to start a good recycling program
How to ensure staying power of your recycling program
Moderator:
Mike Giuranna, Office of Materials Management, EPA Region III
Mike is a Solid Waste Specialist with EPA's Region III Office in Philadelphia. He has worked with Solid Waste and Recycling with EPA for 14 years and has been with EPA for over 27 years, also working in the Air pollution and the Superfund programs. Region III encompasses the States of Delaware , DC, Maryland, Pennsylvania, Virginia and West Virginia. He cooperatively works with these states through MACREDO a Regional Recycling Consortium dedicated to developing markets for recyclables His primary duties involve developing markets for recyclables, such as paper, organics plastic, aluminum, glass and many other solid wastes. He works with several EPA Recycling programs including Composting/Organics and; Jobs Through Recycling, WasteWise and Buy Recycled programs as well as the regulation of Municipal Solid Waste Landfills.
Presenters:
"Incorporating Space for Recycling into Building Requirements"
Pamela F. Gratton, Chief, Recycling and Administrative Services, Division of Solid Waste Collection & Recycling, Department of Public Works & Environmental Services, Fairfax County

Pamela is the Recycling Manager for the Fairfax County (Virginia) Solid Waste Management Program, part of the Department of Public Works and Environmental Services. Pamela is responsible for the management of the County's residential and business recycling programs and overall planning of and support for the county's solid waste management program.
She started her professional environmental career in 1979 which includes her tenure with Wheelabrator Water Technologies where she was responsible for all legislative and regulatory issues impacting the beneficial use of biosolids (sewage sludge). The balance of her career includes project management with several national environmental engineering firms where she was responsible for projects involving air, water and soil resources.
Design requirements for solid waste and recycling collection containers in Fairfax County (PDF)

(14 pp, 406 Kb)
"Maximizing the flow of materials identified in your Waste Assessment"
Adam Schlachter, Managing Member, Reduce Your Waste, LLC

Adam began his career in the environmental industry on the side of the road….as the Program Coordinator for Middlesex County NJ's Adopt-A-Road program. Since this work was handled through the Solid Waste office for the County it opened a lot of doors to other work focused on waste reduction and recycling. Beginning with the planning and implementation of NJ's largest (at the time) curbside residential recycling program Adam got down and dirty fast and continued to help the County grow its recycling programs. During his time with Middlesex County, based on the NJ DEP's annual tonnage grant program, Middlesex County exceeded the states 60% recycling goal for more than a decade and spent many of those years as the highest recycling county in NJ. During this time, Adam also spent time in New York City working for a consulting firm that developed, installed and monitored recycling programs within the high-rise buildings to help them comply with local solid waste/recycling laws. Moving on to the South, Mr. Schlachter spent time in Tallahassee FL working for the Leon County Solid Waste Division. In this capacity Adam oversaw the collection, processing and marketing of fiber materials from the State of Florida's Office Recycling Program as well as overseeing commercial and residential recycling in Unincorporated Leon County. Adam also worked closely with the City of Tallahassee Recycling Department and created joint programs that both County and City residents participated in to increase recycling throughout the area. In addition to his government work, Adam has spent a significant amount of time working with private sector clients. His work mainly focuses on: waste stream value analysis, competitive commodity bidding, waste reduction services, supply chain/EPP, and other sustainability related services including carbon inventory calculation and reduction analysis.
Big Building Recycling: Diversion Techniques to minimize your solid waste bill (PDF)

(22 pp, 360 Kb)
"Six Steps: How to Green your Building Operations through a Waste Assessment"
Miriam Zimms, LEED AP®; Senior Consultant, Kessler Consulting, Inc.; Lean Six Sigma Green Belt-trained; SWANA Certified Recycling Manager & Trainer; U.S. Composting Council Certified Organics Manager.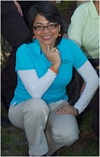 Miriam has over 20 years in the environmental industry with a focus in materials and resource management and specializes in innovative program development, management, integration, and execution. She is nationally recognized in the industry for her expertise in commercial and institutional recycling programs, food waste composting, construction and demolition recycling, large public events/venues recycling, healthcare waste management, and horizontal integration of waste reduction and environmentally preferable purchasing programs in the corporate environment.
Miriam is proud to be a breast cancer survivor and advocate to minorities for early detection and maintaining a healthy lifestyle.
How A Waste Assessment Can GREEN Your Building Operation (PDF)

(21 pp, 1.09 Mb)