You are here: EPA Home
Interview with Janet Nestlerode
Science Notebook: Interview with Janet Nestlerode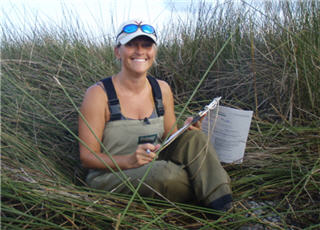 EPA Science Notebook Coordinator Dr. Dale Haroski recently interviewed Dr. Janet Nestlerode, a researcher at EPA's Gulf Ecology division in Gulf Breeze, Florida. Read on to discover how some of the biggest field challenges in the Gulf can be the tiniest and how to win the bug battle!
---
DH: Tell me about your science/educational background?
JN: I am a benthic ecologist by training. I did my undergraduate at Mary Washington College then I went to school at the Virginia Institute of Marine Science, VIMS for short, which is part of the College of William and Mary for both my master's and my Ph.D. My master's research was on environmental hypoxia and my Ph.D. research was on oyster reef habitat restoration.
DH: So what brought you to EPA?
JN: I came to EPA for a post-doc opportunity 4 years ago. I was hired officially this last January.
DH: What other types of jobs did you have before you came to EPA?
JN: Well, besides working in the research laboratories in graduate school, after I finished my Ph.D. I helped to run the laboratory for one of my Ph.D. advisors. I stayed at VIMS for another year and then after that I worked for a regional planning district commission, which is completely not a typical science path. But it was an opportunity for me to hone my GIS skills and I worked there as a regional project planner and primarily worked on developing an "all hazard" mitigation plan for 6 counties and 3 towns in a coastal area of Virginia.
DH: Where are you from originally?
JN: I was born and was educated in Virginia; you can definitely say I am a Virginia girl!
DH: Hailing from New Jersey I still think of myself as Jersey girl but I suppose I'll have to say Virginia girl eventually too! What do you think is the most important thing that you have worked on at EPA?
JN: Well, the project that I worked on for my post-doc was, or is, because we are still in the process of finishing it up, is the Gulf of Mexico Coastal Wetlands Pilot Study. This project is important to me because it is directly feeding into the 2011 National Wetland Conditions Survey that the Office of Water here at EPA has on its schedule. We tested out approaches and are developing approaches that are going to directly play into how sampling is conducted during the national survey. The actual assessment starts in 2011, but many years of planning goes into the project prior to that date.
DH: And what is the purpose to all of this pilot testing?
JN: Well most surveys compare wetlands on a wetland-to-wetland scale, so on a very small scale, and not all surveys of wetlands are done in the same way. Here they want to look at things on a much broader scales. So, we are looking at sampling and approaches that can be used on multiple wetland types across broad spatial scales. Then we can report on the condition of the nation's wetlands as a whole. It is built upon the same premise as the previous national stream and lake studies.
DH: So what do you do for fun?
JN: Well, I live at the beach so I go to the beach as much as I can! I also spend a lot of time with my dog, a weimaraner, who keeps me very busy and active. I take him to a local dog beach in town and he loves it! I also like to run 5k's.
DH: If you could be a super hero, what would you want your super powers to be?
JN: Wow, I would love to be able to breathe underwater without the use of any SCUBA equipment.
DH: So you would be AquaGirl – very cool! Do you have a favorite scientific discovery/development of all time?
JN: Besides my own dissertation research?!? No I am just kidding (laughing). As for a scientific development it would SCUBA, because it is such an amazing development of the technology because it lets us take part in the aquatic world.
DH: What profession other than your own would you choose and why?
JN: I always wanted to be a teacher because I love seeing the look of discovery on a student's face when you teach them a new concept and the really get it. I have always gotten a lot of joy and satisfaction out of the teaching experiences that I have had in the past.
DH: What profession would you not like to do and why?
JN: I wouldn't want to be in a purchasing department where you have to track all of the property and where the money goes because I have a hard enough time doing that for myself.
DH: What is the best part about your job?
JN: Hmmmm, I like that I am working on projects that make a difference, or that you can see have a big impact. Particularly the project that I am working on for the wetlands survey; this is going to be "on the ground" and it is going to be taken to a national level and that is really satisfying. The science is actually applied.
DH: What is one of biggest challenges to field work in your part of the country?
JN: Well, we did some work in the Everglades last spring and I have to say that one of the biggest challenges is also the tiniest and it would be no-see-ums. Because those things can be so annoying, if you are being attacked by no-see-ums you stop thinking about the work that you are trying to do and the no-see-ums take over. So to prevent that we outfitted ourselves with bug suits that have hoods with mesh across the faces so we could do our work without being pestered. It is something you have to overcome. The fabric is really breathable and we were working in some pretty hot temperatures in the Everglades and we were comfortable.
DH: Ugh, that reminds me of my field sampling experiences with greenhead flies in New Jersey but I wasn't smart enough to wear a bug suit! On another note, any advice for students considering a career in science?
JN: Oh yeah, I would tell them to study hard – which is something no one ever wants to hear. Try to do well in math, because even a biologist has to learn math and understand it. Look for volunteer opportunities because you never know when connections that you have made in the past will open doors for you in the future. So volunteer! Even if it means helping someone wash the glassware and ask a lot of questions to get to know the kinds of things that people are working on. Because a lot of the science questions have yet to be answered and it is great to have new ideas coming into a laboratory.
In between undergraduate and graduate school I went back to live in Northern Virginia and I volunteered at the Smithsonian at the Division of Fishes and I went in and x-rayed fish and prepared samples for the researchers. A position opened up and they hired me and it was just enough for me to get my foot in the door and meet some interesting people before I went to grad school the next year.
DH: I couldn't agree more. Volunteering definitely opened doors for me and I always encourage my nieces and nephews to do the same thing. Here's a random question - what is your favorite wetland animal?
JN: Oooo, I would have to say the fiddler crab. They are just so cool and they have such cool burrows. I love it that when you pull up on a boat to the edge of a marsh and the entire bank is covered with fiddler crabs and they are all waving at you with their one cheliped, or claw, and they just move away in unison. It is almost like watching birds in formation.
DH: I need to now add a disclaimer to let the reader know that I did not pay you to say "fiddler crab" even though that's what I did my dissertation research on!
Ok, before I get started yapping about how cool fiddler crabs are, another question. How would you describe yourself in three words?
JN: Enthusiastic, hard-working and dedicated.
DH: What is one quality that you think it is important for a scientist to posses?
JN: Persistence... because you have to be persistent in pursuing your dreams and pursuing your hypothesis. Let's say you have a project in mind and you get shot down the first time, you have to be persistent because there might be another way of presenting it or asking the question. I say persistent is synonymous for 'don't give up'.
DH: Have you read any good books lately?
JN: I just finished Cod, which is a Mark Kurlansky book and I really enjoyed that one. Right now I am reading Lost Man's River by Peter Matthiessen. I'm drawn to historical fiction. Another good one was Ahab's Wife and if you ever get a chance, you should read that. It is amazing. It is about the fictional wife of Captain Ahab from Moby Dick.
DH: I must admit, my book question is pretty selfish because I always get great suggestions to add to my reading list! Ok, a few more quickies: Matchbox or Hotwheels?
JN: Well, I bought a Matchbox car for my nephew so I guess I would say that.
DH: PC or Mac?
JN: PC.
DH: Vanilla or chocolate?
JN: Depends on my mood, but I would have to say chocolate.
DH: Which makes me wonder what a vanilla mood versus a chocolate mood is like (laughing). Thanks for chatting with me today Janet and thanks for the fiddler crab plug!
JN: My pleasure!