What is GIS (Geography Information Systems)?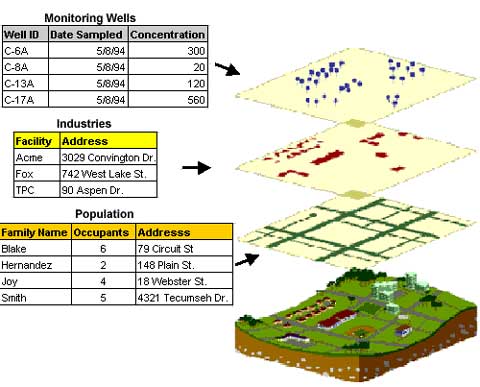 A Geographic Information System (GIS) is a computer-based system designed to collect, store, integrate, manipulate, analyze & display data in a spatially referenced environment. It allows you to analyze data visually and see patterns, trends, and relationships that might not be visible in tabular or written form.
Within the field of Environmental Management, GIS can be used for:
Site Remediation
Natural Resources Management
Waste Management
Groundwater Modeling
Environmental Impact Assessment
Policy Assessment Compliance Permit Tracking
Vegetation Mapping
A GIS can be represented as several different layers where each layer holds data about a particular kind of feature. By layering information such as wells, industries, and population, spatial relationships among the objects being mapped can be emphasized. Someone might see that the highly contaminated wells are located next to a particular industry. Or, they could see how many families are potentially at risk if their drinking water comes from a contaminated well.
A GIS differs from other information systems because it combines common database operations such as query and statistical analysis with the benefits of visual and geographic analysis offered by maps.