Response to Hurricane Katrina
ALERT
Boil Drinking Water
If your water may not be safe, bring drinking water to a rolling boil for 1 minute to kill water-borne diseases.
More information | en español
Hurricane Recovery
Getting help
Giving help
Missing people
General information
All -

Other Agencies
Federal Agencies

State Agencies

10/29-31/05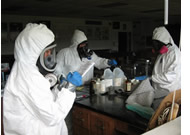 EPA has conducted more than 3,400 incident responses since deploying emergency response personnel following the destruction left by Hurricane Katrina along the Mississippi and Alabama coastline. An incident response is defined as an investigation of a National Response Center Report, contacting facilities, and reporting hazmat debris while conducting land or water assessment in the affected areas.
Assessment and Removal Team Activity
EPA is operating under three divisions that were formed to address Hancock (Division A), Harrison (Division B), and Jackson, Mississippi Mobile and Baldwin, Alabama (Division C) counties, which are the most affected areas along the coast. The U.S. Coast Guard (USCG) is serving as liaison between EPA and the three divisions. Coastal MS experienced storm surge flooding of 18 to 22 feet above normal tide levels and significant rainfall amounts during Hurricane Katrina.
Division A – Hancock County, Miss .
Division Alpha hazardous material field collection continued in Pass Christian and Bay St. Louis as well as assisted Division Bravo with collection in Biloxi.
An ATSDR representative conducted a health assessment of a trailer containing spoiled food located at the Port Bienville Industrial Park. Hazardous materials collected included: antifreeze containers, corrosive containers, gas cylinders, pesticide containers, Freon cylinders, and paint cans.
Division B – Harrison County, Miss.
Division Bravo deployed two teams to continue sweeping areas east and west of Highway 49. In addition, Division Bravo began collecting items from the Division Bravo Open Items Database.
Teams documented areas where heavy debris remains and collected any small items staged on the curb.
Division C – Jackson County, Miss., and Baldwin and Mobile Counties, Ala.
On October 28, Team 1 performed recovery operations in the Pascagoula area. Team 1 collected two large propane tanks, three drums, eight 5-gallon buckets, and more than 100 small containers.
The following day all resources assisted with the HHW collection day in Jackson County. Five locations were staffed to receive HHW. Several hundred containers, batteries, and tires were collected and transported to the Division C Collection Point. On October 30, 2005, Team 1 removed drums from a site in Bayou Casotte where several hundred drums were deposited by the storm surge. Team 2 resumed removal operations in downtown Pascagoula.
Public Outreach
On October 29, 2005, the Community Involvement group with support from the Hazardous Waste Collection Branch coordinated a five-site household hazardous waste (HHW) collection day with the EPA Hazardous Material Collection Branch. Citizens deposited HHW at five locations in Jackson County: St Martin, Ocean Springs, Gulf Park Community, Gautier, and Pascagoula. The events were well-attended following the distribution of more than 17,000 fliers at local elementary schools, door-to-door distributions, and FEMA distribution and information centers.
In addition to advertising in the Sun Herald and local radio, the event was promoted through local radio and television news the day preceding the events. The waste collected was bulked and relocated to the existing EPA collection points for disposal.
Response Corps personnel have begun distributing fliers for the upcoming November 5 and November 9 events. Concurrent to the collection events, Response Corps personnel assessed what types of information local community members need (mold, how to deal with dead animals, etc.) as well as distribute guidance on separating wastes in anticipation of collection.
Air Monitoring
The Air Monitoring Support Team is collecting PM 2.5, PM 10, with metals analysis and asbestos at three permanent sampling sites in Pascagoula, Gulfport and Stennis Air Bases. Additionally, the VOC, SVOC, carbonyl, and hexavalent chromium samplers are being collected at these sites.
The team is also operating three sites near larger burn area. They are sampling for PM 2.5, PM 10 and asbestos. The team has collected a total of 84 PM 2.5, 84 PM 10 and 55 asbestos sample, along with 23 VOC, 23 SVOC, 23 carbonyls and 23 hexavalent chromium samples. All Air data results will be coordinated with EPA's Emergency Response Team.
Water Systems
An EPA mobile drinking water laboratory, stationed in Gulfport has processed more than 1,323 drinking water samples and continues to analyze new samples each day.
The Waste Water Treatment situation continues to improve. In Mississippi, the Delisle Waste Water Treatment Plant is now operating normally and East Biloxi is still operating primary treatment only. The state of Alabama reported that Dauphin Island's Wastewater Treatment plant is now operating at limited capacity. This means that all municipal wastewater treatment facilities in Alabama and Mississippi are now considered to be operational.
AST Branch
The AST Branch recovered 10 previously assessed ASTs and transferred them to the Division A Collection Point. Teams pumped fuel from two tanks in Division A to prepare the ASTs for removal. An air over flight was conducted for the logistics of removing ASTs located in the bayous of southern Hancock County. In the process of surveying the known ASTs several new ASTs requiring removal were located. A total of approximately 90 tanks remain that require removal.
Lift Stations
Operations continued in Pass Christian with crews cleaning debris, sand, and sewage from the manholes, lines, and lift stations in the area. Generators powering the lift stations on the west end of the city were operated to lower the water level in the sewer lines to facilitate cleaning.
Operations continued in Bay St. Louis with crews cleaning debris, sand, and sewage from the manholes, lines, and lift stations. Crews continued locating manholes and lift stations throughout the area. EPA contractors maintained pumps at bypass locations and lift stations throughout Harrison and Hancock Counties.
• Emergency Fuel Waiver for AL, FL, LA, MS