Pacific Southwest, Region 9
Serving: Arizona, California, Hawaii, Nevada, Pacific Islands, Tribal Nations
Dredging and Sediment Management
Five Hawaii Ocean Disposal Sites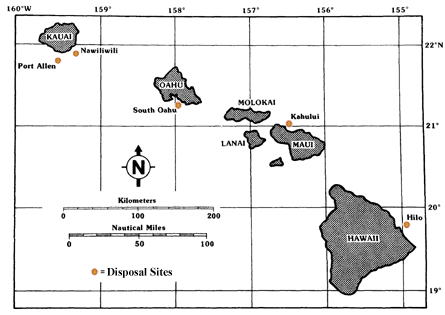 On this page:
There are five ocean disposal sites for dredged material that serve the state of Hawaii. These sites were all established in 1981.
South Oahu
Hilo
Kahului
Nawiliwili
Port Allen
The South Oahu site off Honolulu is the most heavily-used of the five disposal sites, receiving at least some dredged material in most years from navigation projects in Pearl Harbor, Honolulu Harbor, and nearby harbors and marinas. The site offshore of Hilo is the next most heavily used. Much less disposal occurs at the Kahului (Maui), Nawiliwili and Port Allen (both off Kauai) sites, and disposal there is much less frequent as well.
To date, all five sites have been managed under a Site Management and Monitoring Plan (SMMP) published in 1997 (see link below). Now EPA, together with the Honolulu District of the U.S. Army Corps of Engineers, is preparing to update the SMMP. In support of this update, in 2013 EPA extensively surveyed the two most heavily used Hawaii disposal sites (South Oahu and Hilo). The monitoring survey results are now available and may be downloaded below. The surveys confirmed that there have been no significant adverse effects at these ocean disposal sites.
As with all of EPA's other dredged material disposal sites, only projects having clean (non-toxic) dredged material are eligible for ocean disposal, and only when project-specific alternatives (including beneficial reuse) are not practicable.
Disposal Site Information
You will need Adobe Reader to view some of the files on this page. See EPA's PDF page to learn more about PDF, and for a link to the free Adobe Reader.
Hawai'i Offshore Dredged Material Disposal Site (ODMDS) Details
Disposal Site
Depth Range
Shape and Dimensions (Seafloor Footprint)
Surface Disposal Zone (SDZ) Dimensions
Center Coordinates
(NAD 83)

South Oahu

375-475 m
(1,230-1,560 ft)

Rectangular
2.0 by 2.6 km
(1.08 by 1.4 nmi)

Circular
305 m (1000 ft) radius

21° 15' 10"N,
157° 56' 50" W

Hilo

330-340 m
(1,080-1,110 ft)

Circular
920 m (3000 ft) radius

Circular
305 m (1000 ft) radius

19° 48' 30" N
154° 58' 30" W

Nawiliwili

840-475 m
(2,750-3,675 ft)

Circular
920 m (3000 ft) radius

Circular
305 m (1000 ft) radius

21° 55' 00" N
159°17' 00" W

Port Allen

1,460-1,610 m (4,800-5,280 ft)

Circular
920 m (3000 ft) radius

Circular
305 m (1000 ft) radius

21° 50' 00" N
159° 35' 00" W

Kahului

345-365 m
(1,130-1,200 ft)

Circular
920 m (3000 ft) radius

Circular
305 m (1000 ft) radius

21° 04' 42" N
156° 29' 00" W
---
Contact Information
Allan Ota (Ota.Allan@epa.gov)
(415) 972-3476