Pacific Southwest, Region 9
Serving: Arizona, California, Hawaii, Nevada, Pacific Islands, Tribal Nations
You are here: EPA Home
Protecting Waterways from Stormwater Pollution in Arizona
Protecting Waterways from Stormwater Pollution in Arizona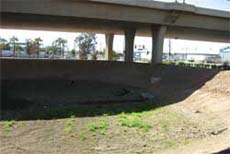 As a result of EPA's ongoing national initiative to enforce the requirements of stormwater discharge permits, the Arizona Department of Transportation (ADOT) has entered into an administrative compliance order on consent with EPA to speed up its efforts to prevent stormwater runoff from highways and freeways from polluting lakes, rivers, and other waterways.
ADOT manages 18,000 miles of traffic lanes on Arizona roadways. Stormwater runoff from these roadways could contain pollutants such as metals, oil, grease, sediment, pesticides, and trash. Such roadway runoff, in Arizona and elsewhere in the country, can end up directly in waterways without treatment. Street and highway runoff during storm events is one of America's largest sources of water pollution.
To control Arizona's roadway runoff pollution, ADOT has agreed to complete a series of mapping, inspection and maintenance activities by March 2014 for its storm sewer outfalls and post-construction treatment devices such as detention basins and grassy swales. These treatment methods hold the stormwater discharges long enough to allow them to seep into the ground or evaporate.
The Clean Water Act regulates storm water discharges from larger municipalities through what are known as  municipal separate storm sewer systems (known as "MS4") permits. Each state in the Pacific Southwest Region (Arizona, California, Hawaii, and Nevada) is authorized to issue MS4 discharge permits.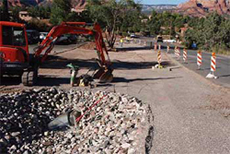 Under these permits, municipalities, including transportation agencies, must have comprehensive prevention, control, oversight, and monitoring measures in place to prevent and minimize urban runoff  from polluting the nation's waters. ADOT's permit is one of 35 MS4 permits in the Pacific Southwest.
Many municipalities also  conduct outreach programs to educate the public about the problem of urban runoff.  Educational efforts include the now-familiar signs stenciled on San Francisco Bay Area street drains with words like "Don't dump – drains to Bay."
EPA has performed many audits of municipalities and transportation agencies on their compliance with MS4 permits over the past decade.  Copies of those audit reports and follow-up enforcement actions in the Pacific Southwest are available at EPA's MS4 Program Audits website.