Pacific Southwest, Region 9
Serving: Arizona, California, Hawaii, Nevada, Pacific Islands, Tribal Nations
You are here: EPA Home
Hospital Pollution Prevention
Pollution Prevention
Hospital Pollution Prevention
On This Page:
Region 9 and our partners have developed several resources and tools for hospitals.
Tools and Training
---
Hospital P2 Work and Resources in EPA Region 9
EPA Region 9 works with hospitals, tribes, state and local agencies, and non-governmental organizations to prevent pollution from hospitals.
Region 9's Hospital Pollution Prevention work includes developing tools and resources such as posters and fact sheets, and supporting training.
Fact Sheets
The fact sheets below provide complete environmental, technical and economic evaluations of key Pollution Prevention "fixes" for hospitals. Here are the four fact sheets:
Hard copies of these fact sheets can be obtained by calling (800) 490-9198. Ask for "The Pollution Prevention Tool Kit, Best Environmental Practices for Hospitals" (publication number EPA 909-E-02-001).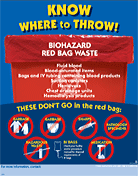 Red Bag Poster and Sticker
The Contra Costa Health Department, Hazardous Materials Program, using EPA Region 9 grant funding developed this Poster titled "Know Where to Throw" focused on appropriate handling of red bag or medical waste. Putting materials into a red bag that can be recycled or disposed of in the solid wastestream is both costly and potentially hazardous to the environment. This poster is appropriate for California medical waste requirements.
Go to CalRecycle's "Red Bag (Biohazards) Waste" Web page

to order these posters.
Hospital P2 and Mercury Reduction
Hospital P2 and Mercury Reduction Tools: With a Pollution Prevention grant from Region 9, the California Department of Health Services developed several useful tools that will help hospitals reduce their hazardous, medical and solid waste including:
Pollution Prevention for Healthcare Professionals
San Francisco Department of the Environment
From 2006 to 2008, SF Environment managed a health care pollution prevention project through a grant from the EPA. They organized workshops to educate local hospital staff on health care-specific environmental issues and facilitated discussions between health care professionals. Projects include a pharmaceutical waste fact sheet, janitorial and pesticide product assessment. See the link below for more information and presentations on this topic.
Training resources
Western Sustainability and Pollution Prevention Network Hospital Pollution Prevention Training Workshop Proceedings
For information on a Pollution Prevention workshops for hospitals, check out the presentations given at a Workshop in Phoenix Arizona held sponsored jointly by EPA Region 9, and Arizona DEQ. The workshop addressed a wide range of topics including: mercury elimination, alternatives to DEHP, microfiber mops, solidwaste reduction and recycling, sterilants and disinfectants, pharmaceutical waste disposal, environmentally preferable purchasing, red bag waste minimization, and green building.
The Center for Environmental Health (CEH)
CEH sponsored the California Sustainable Hospitals Forum on June 25, 2003.
Hawaii Department of Health P2 resources and presentations
For additional information about Region 9's hospital Pollution Prevention work, please contact Wendi Shafir (shafir.wendi@epa.gov).
More Hospital Waste Reduction Resources
General Resources
Resources for California