Options for Dredged Material PlacementDecontamination Technologies
Decontamination results in the reduction, removal or immobilization of contaminants within the sediments. Decontamination technology is not in and of itself a beneficial use nor is it a disposal alternative. The main purpose of EPA's current treatment/decontamination efforts, under the Water Resources Development Act (WRDA),

is to identify those technologies which may be applied to large volumes of dredged material in a cost-effective and environmentally sound manner and which yield a product which may be used beneficially. Recently, the growing regional trend has been to utilize dredged material as a resource for beneficial use applications rather than to dispose of it with no benefit. Decontamination technologies may also be applied to restoration of brownfield sites, using treated dredged material or through the decontamination of affected soil.
The potential beneficial use of decontaminated dredged material is more attractive than upland placement or ocean disposal of untreated material because of the general perception that placement of contaminated materials at these sites could ultimately affect environmental and/or human health. Decontamination technologies is one method that facilitates the incorporation of previously contaminated sediments (whether dredged for navigation or for remediation) into beneficial use applications.
The Water Resources Development Act (WRDA) Sediment Decontamination Program

provides technical reports as well as sediment visualization maps of NY/NJ Harbor. For an understanding of the laws that regulate dredged material management and placement, please refer to our Regulatory Responsibilities and Authorities section.
Dredged material is no longer being regarded as a "spoil" or "waste" but as a resource. Beneficial use of dredged material may be defined as the placement or use of dredged material for some productive purpose. Its mineralogy and geotechnical properties qualify it for use in the manufacture of high value, beneficial use products.
EPA continues to work vigorously with all interested stakeholders and partners in finding uses for dredged material which result in positive outcomes and/or products. Dredged material may be used in a variety of beneficial use applications. A listing of these include ocean remediation, upland restoration, filling degraded basins and pits, creating and restoring wetlands for water quality treatment and habitat, and creation/restoration of other habitats such as oyster reefs and bird habitat.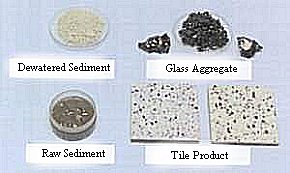 Beneficial use end products

include topsoil, construction-grade cement, lightweight aggregate, bricks, and architectural tile. Often, these beneficial uses can come at a cost-saving to the public. All dredged material proposed for beneficial use will be evaluated in a framework which protects human health and the environment.
Schematic Diagram of Traditional Dredged Material Disposal Alternatives
Confined disposal is defined as a disposal method that isolates the dredged material from the environment. Confined disposal is placement of dredged material within diked confined disposal facilities via pipeline or other means. A confined disposal facility (CDF) is defined as a diked area, either in-water or upland, used to contain dredged material. The terms confined disposal facility (CDF), dredged material containment area, diked disposal facility, and confined disposal area are used interchangeably. Most times, dredged material is not treated prior to placement at CDFs because these facilities are constructed to contain and separate the dredged material from the surrounding area.
This diagram demonstrates the different disposal alternatives for dredged material being used across the country. The size and design of a CDF is site-specific, depending on the location, the type of sediment and nature of contaminants, potential amount of material and how the facility will be used or function once it is full or no longer receiving dredged material. Placement and storage at CDFs is cost-effective and is an alternative to resolving the problem of dredged material disposal. Please refer to the U.S. Army Corps of Engineers Dredged Material Management Plan

for more information on specific inland upland and confined disposal sites.
A federally designated disposal site differs from a permitted CDF in that federally designated disposal sites for dredged material are used for dredged material that is considered non-contaminated and the material is not contained at the site. Please refer to New York and New Jersey dredging sites under EPA Regulations for more information.