Automotive Repair and Auto Body
Quickfinder
Auto Body Shops: Compliance Reminder
If you spray-apply coatings to motor vehicles and mobile equipment you are required to comply with the new National Emission Standards for Hazardous Air Pollutants for Paint Stripping and Miscellaneous Surface Coating Operations (40 CFR Part 63, Subpart HHHHHH). The regulations require notification to EPA, training, spray booth, spray gun and other requirements.
For existing shops, the initial notification of operations is due to EPA by January 11, 2010 and the notification of compliance status, certifying compliance with the regulations is due by March 11, 2011 (see sample forms below). For new shops (startup after September 17, 2007), the initial notification is due 180 days after startup or July 7, 2008, whichever is later, and the notification certifying compliance is due with the initial notification.
For further assistance or to schedule an EPA training session on the rule for owners/painters, please contact Deborah Craig, EPA Region 2, by phone at (212) 637-3521 or by e-mail at craig.deborah@epa.gov. The owner or operator must certify that the painter has completed the required training under the rule (see Example Painter Training Certification form below).
Example Initial Notification Form
Example Notification of Compliance Status Form
Example Painter Training Certification Form
Example Petition for Exemption for Motor Vehicles or Mobile Equipment Surface Coating Operations
EPA Region 2 Powerpoint Presentation on Rule | en Español
Design for Environment Automotive Refinishing Project
A free 19 minute training video (Windows Media File) (59 MB) starring NASCAR driver Jeff Gordon and featuring testimonies from large and small shop owners, which will include: paint strip Rule, best practices, saving money, worker protection, and outreach resources.
New York State's Auto Body Webpage

NJ Green Automotive Repair Program

Waterborne Automotive Coating Webinar (2009 download available)

In the Spotlight
Enforcement Alert: Don't Let Those Tanks Leak
Since 1988, approximately 474,000 releases of fuel from underground storage tanks (UST) have been confirmed across the country, including 7,570 new releases in 2007 alone resulting in many municipal drinking water systems and private wells to be shut down due to groundwater contamination. Thus, EPA has taken many enforcement actions to ensure compliance with the federal UST requirements. More
New Jersey Green Automotive Repair Program
The auto industry and the New Jersey Department of Environmental Protection have formed a partnership to encourage "green" practices within the automotive repair sector, and to promote greater recognition of these practices among the citizens of New Jersey. More
There are over 35,000 auto repair shops in New York, New Jersey, Puerto Rico, and the U.S. Virgin Islands which are sources of air and water pollution as well as hazardous and solid waste. Air issues include volatile organic compound emissions from spray painting and fueling operations, hazardous air pollutants from collision repair and solvent parts cleaning, airborne dust which may include high levels of heavy metals such as cadmium and lead from sanding, grinding, and blasting operations, and the release of ozone-depleting refrigerants during the service of motor vehicle air conditioning systems. Water quality issues include storm water management, releases of fuel and oil from underground and above-ground storage tanks, and illegal discharges from floor drains. As for solid and hazardous waste, auto service and repair shops generate used oil and filters; used batteries; used shop rags/towels; used antifreeze; spent solvents; used paints and thinners; used tires; used fluorescent lamps; oil spill absorbant material; abrasive grit blast media; scrap metal; and used asbestos brake pads, just to name a few.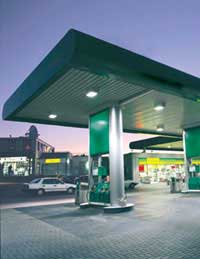 Thus, it should come as no surprise that auto repair shops need to comply with many federal, state, and local requirements depending on the types of services provided. For example, if you dispense gasoline, depending on your location, you may be required under the Clean Air Act to install Stage II vapor recovery systems to capture gasoline vapors at the pump and thereby, reduce the formation of smog in urban areas. If your gasoline is stored in underground storage tanks, you are required under the Resource Conservation and Recovery Act, to install and properly maintain spill and overfill prevention and cathodic protection equipment on the tanks as well as perform monthly leak detection on all parts of the UST system that routinely contains product (including piping) to prevent contamination of local drinking water supplies. On the other hand, if you store more than 1,320 gallons of fuel and/or oil in above ground storage tanks, you are required under the Clean Water Act to develop and implement a spill prevention, control and countermeasure plan. Also, if you have floor drains in your parking lot and/or shop, you need to know where the waste water generated from your shop goes since depending on the answer, you may be subject to underground injection control requirements under the Safe Drinking Water Act or the storm water and waste water requirements under the Clean Water Act. Furthermore, depending on how much hazardous waste you generate, there are specific storage, training, and disposal requirements under the Resource Conservation and Recovery Act.
At this point, you are probably feeling a bit overwhelmed and are wondering how you are going to be able to keep track of all of these requirements not to mention new requirements that are coming down the pipeline such as the new emissions standard for hazardous air pollutants for paint stripping and surface coating operations. You are just a small business with only a few employees some of whom do not even speak English as their first language. EPA understands the difficulties you face and we have created this site to help shop owners and operators like yourselves understand and comply with existing requirements, keep abreast of new requirements, and potentially reduce your environmental liabilities by eliminating wastes and emissions through "green" practices.
We strongly encourage shop owners and operators to take advantage of compliance checklists developed by EPA and the state environmental agencies to conduct periodic environmental audits of their shops and voluntarily disclose violations under EPA's Audit Policy. Under this policy, EPA can reduce or eliminate civil penalties provided certain conditions are met. For small businesses, EPA offers free on-site compliance assistance visits which are great opportunities to learn first hand from regulators about environmental requirements applicable to your shop.