P2 Grant Distribution by Program Type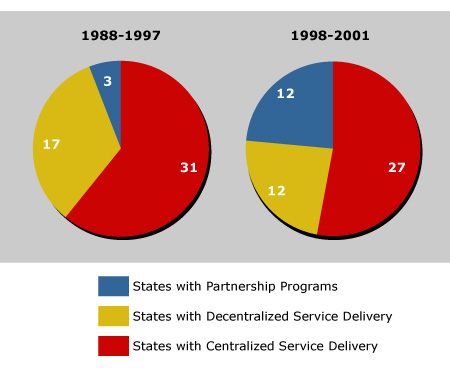 In 1998, EPA analyzed how each state implemented its EPA P2 grants since the inception of the grant program. EPA reviewed which organizations in each state received EPA P2 funding, how each of these organizations worked with other pollution prevention programs in their state, and what activities they implemented with EPA P2 grant funds. Upon completing its analysis, EPA identified three general models that describe PPIS service delivery in each state. These models include the following:
Centralized Service Delivery: In this model, states implement their programs primarily through one state agency, usually a state environmental or health department. While other state agencies or universities may receive additional PPIS grants, the vast majority of grants in this model flow directly to the primary state agency. This agency then delivers all pollution prevention services, whether they be technical assistance, outreach, infrastructure building, or regulatory integration.


Decentralized Service Delivery: In this model, two or more state agencies consistently receive EPA P2 grant funding and conduct a discrete set of activities. While one agency implements services such as outreach and technical assistance, the other agency focuses on another discrete set of services, such as regulatory integration.


Partnership Programs: In this model, the primary state agency partners with other state organizations to deliver pollution prevention services. While this agency may receive the majority of the EPA P2 grant funds, it combines its efforts with other service providers in the states for a comprehensive P2 service delivery.
The charts above show the distribution of P2 grants by type of program in the first 10 years of the grant program as well as the distribution over the past 4 years. EPA noted an increase in the number of partnership programs from 1998 to 2001.