Complete Summaries Of The 40 New USTfields Pilots
EPA's Office of Underground Storage Tanks (OUST) has selected 40 new state/local pilots in which the state will partner with a local area to assess and/or clean up two or more petroleum-impacted underground storage tank sites. Each pilot state will receive up to $100,000 of LUST Trust funds to be used to assess and clean up the local area sites. For more information about the pilots, contact Steven McNeely (703-603-7164).
Click on the Region on the map below to link to descriptions of the respective USTfield pilots for that Region.
You will need Adobe Reader to view some of the files on this page. See EPA's PDF page to learn more.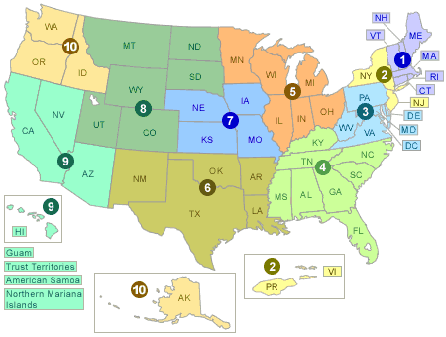 | | |
| --- | --- |
| EPA Region 1 | EPA Region 2 |
| EPA Region 3 | EPA Region 4 |
| EPA Region 5 | EPA Region 6 |
| EPA Region 7 | EPA Region 8 |
| EPA Region 9 | EPA Region 10 |